There's a lot going on (well, that's good!) and so we'll get 'Straight to the Point' on 2/22/22. Register & turn up! Plus, what's new in dynamic destinations we all know and love: Oakland, LA, Chicago, Dallas, San Diego, and Daytona Beach.
Register now. Useful. Tangible. Free. Let's get "Straight to the Point" with DMO marketers presenting dynamic case studies with their partners. Turn up on 2/22/22 at 1 p.m. to 4 p.m. (ET) because we know that nobody has time to waste. Here's your event link with content details.
---
Hurray for Amy!
Oakland, California gained a new local hero when Amy Schneider absolutely killed it in a record-breaking run on "Jeopardy!" Wearing her signature strand of pearls and a quick smile, the cool-as-cucumber contestant earned $1,382,800 in a 40-game winning streak, second-longest in show history. With that, Amy became the first woman to top $1 million and the first openly transgender player to qualify for "Jeopardy!" Tournament of Champions.
Amy says, "I will always and forever be proud to say that I've done my little part to ease the path for future generations of trans people to live free, open, and happy lives, and that feeling is worth more to me than any financial gain could ever be."
Next up, a book. But for now, @Jeopardamy is championing Oakland, California in interviews, on national talk shows, in magazine articles, via social media. Peter Gamez, President & CEO at Visit Oakland writes, "…looking forward to working with Amy and share all her love for The Town."
Note: There's another way to get on "Jeopardy!" Limited tickets to Jeopardy! are free. If you are in the Los Angeles area, check for upcoming taping dates.
And speaking of LA…
---
Who Wants a Hoodie?
Adam Burke, President & CEO of Los Angeles Tourism & Convention Board writes, "Since we launched our new logo and branding last year, we've been overwhelmed with how both visitors and locals have responded! The most common reaction? Where do I get my LA merch?!
Wish granted! Thanks to our friends at House Industries and Amanda and Shepard Fairey's LA-based OBEY, we're thrilled to announce a collection of apparel featuring our new logo and iconic LA neighborhoods Griffith Park, Venice, and Echo Park.
Most important, all proceeds from this project will be donated to The Midnight Mission and their incredible work providing a wide range of services and shelter for those experiencing homelessness in Los Angeles. Learn more at https://lnkd.in/gbra2uBk. You can view the full apparel collection at: https://lnkd.in/g7mtiQ43."
---
What Does It Mean?
Here's the copy: "Since its founding, Chicago has influenced the most prominent cities across the Globe. From NY to Berlin, from São Paulo to London. However, not many people know that. Until now. Watch the video and find out more. Or just come to Chicago and see for yourself."
CHICAGO NOT IN CHICAGO is all about other cities' famous things that actually have Chicago roots, connections or were invented in Chicago. That's it. The zipper, spray paint, the electric laundry machine, the mobile phone. Mind you: This is a full fledged campaign, not a blog post.
The destination branding comes not from Choose Chicago, but from World Business Chicago, the city's economic development arm. Axios Chicago points out that the city's chief marketing officer defended the campaign in a Chicago Tribune Op-Ed, saying the intent was misunderstood. Michael Fassnacht stressed that this isn't a new tourism slogan, but instead "a smart and cheeky guerilla marketing campaign."
Meantime, the website and on-location videos feature other cities ("Next Stop: London"), while a Manhattan sightseeing guide pinpoints New York places with Windy City connections while shouting "Chicago!" to confused passengers riding a branded open top tour bus through NYC streets.
A press release from the Mayor's Office indicates the campaign will receive national media placement.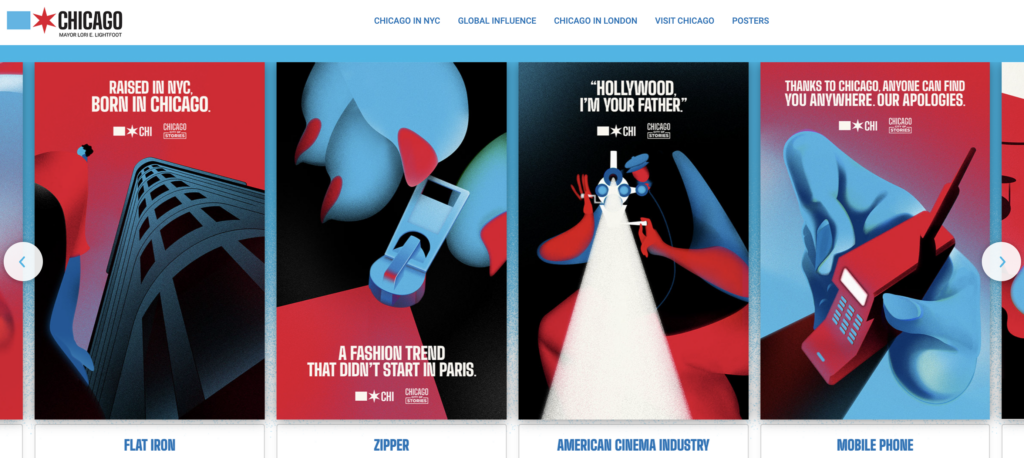 ---
Bigger and Better in Dallas
Dallas takes the first step with plans to tear down Kay Bailey Hutchison Convention Center while building a bigger and better facility at a cost of $2.1 billion.
"It's a game-changing decision by the city council to allow us to go forward with a new convention center," Craig Davis, President & CEO of VisitDallas told USAE News. "We've been working on this for a year. We were expecting it to pass, and we're grateful that it passed."
The city council voted 14-1 on February 9 to begin design and engineering work on the 2.5 million-square-foot project. In November, a referendum is needed to approve an extra hotel tax that would benefit the project. If passed, groundbreaking is expected in 2024, with completion of the new convention center slated for 2028.
---
Let's Buy Tickets
San Diego Tourism Authority, Tourism Marketing District, and SDCCU Holiday Bowl officials partnered together to announce the launch of Sports San Diego, a newly formed entity "singularly focused" on recruiting, supporting and hosting world-class sporting events. Run by the nonprofit San Diego Bowl Game Association, the organization is funded by a portion of the hotel fees collected by the San Diego Tourism Marketing District, also using the remainder of funds allocated to the tourism authority for sports marketing during the current fiscal year ending June 30, amounting to $150,016.
---
Daytona is Famous For…
Daytona Beach Area Convention & Visitors Bureau is considering concepts for a $790,000 marketing campaign aimed at attracting more affluent, high-income visitors with annual incomes of $150,000 or more. The destination is replacing the NASCAR-oriented "Start Your Engines" campaign.
"Famous For More Than You Think," was one of two potential marketing plans presented to the Halifax Area Advertising Authority board of directors that oversees and funds the CVB, by the Myrtle Beach-based marketing firm, The Brandon Agency. Potential taglines included "Famous for so many amazing ways to do nothing," "Famous for seven-day weekends," and "Famous for that Friday feeling any day of the week."
A second potential campaign, "You Need a Beach Vacation," references lifestyle changes in the wake of the pandemic. This is built around beach imagery accompanied by messages such as "It's time to Zoom out," and "You can't get this from any streaming device."
MMGY NextFactor is consulting with the destination on the formation of a three-year strategic plan including a new, streamlined mission statement and a new vision statement. — Source: The Daytona Beach News-Journal