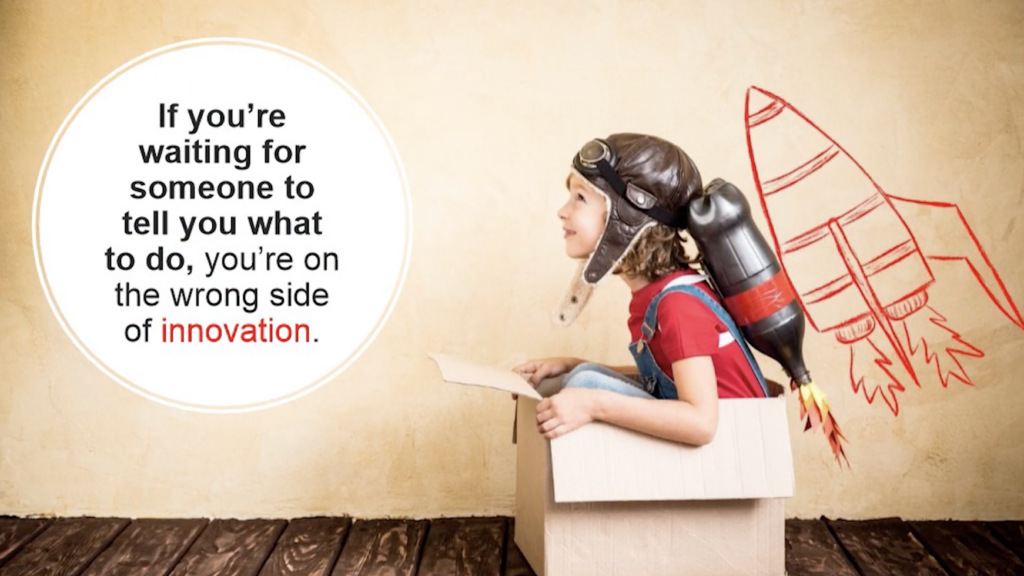 Here we are, 2021 and thinking about our communities and the future.
"Every single industry is open to reimagination right now…and restaurants are spaces that are being reimagined." — Brian Solis, anthropologist and digital analyst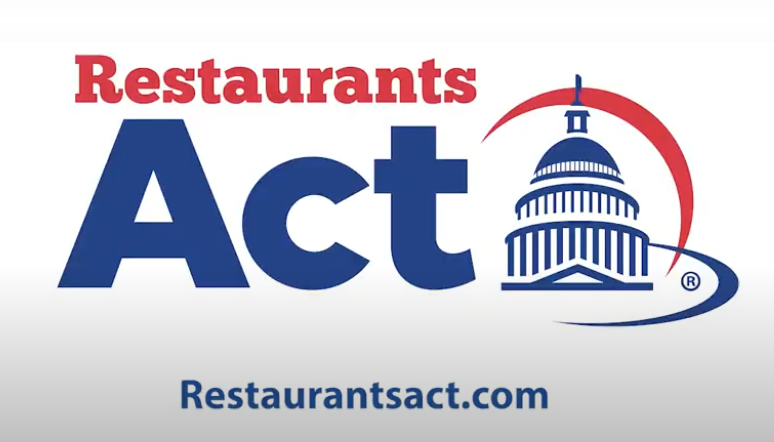 Independent restaurant news:
The much-debated Covid-19 relief package does not include the Restaurants Act, a bill to establish and provide funding for the Restaurant Revitalization Fund for making $120 billion worth of grants to eligible food and beverage businesses not publicly traded or part of a chain of 20 or more.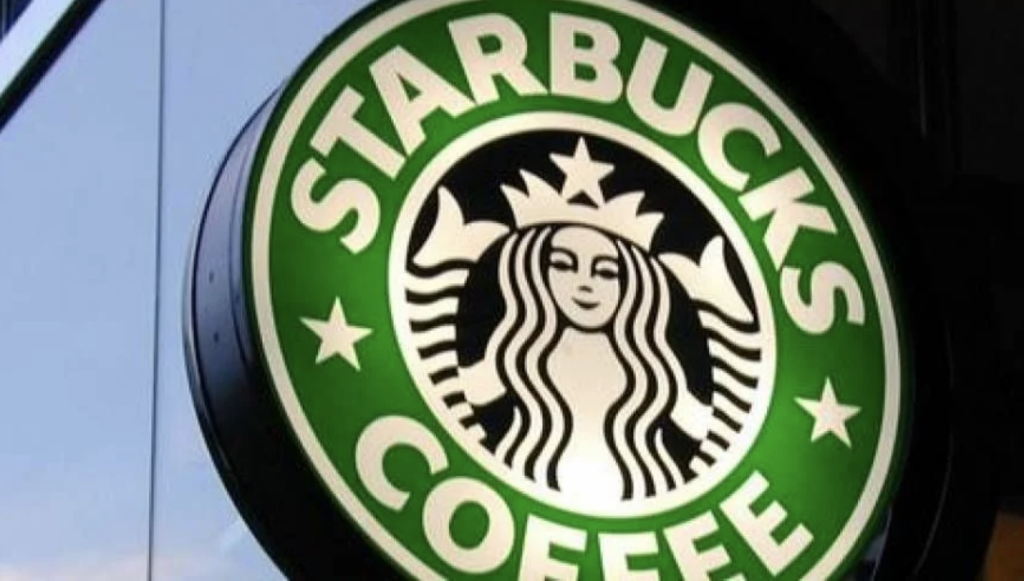 Chain restaurant news:
In June 2020, Starbucks announced it would shut down up to 400 of its company-owned stores by late 2021 while opening more "pickup" locations for customers who order and pay by app. 
Pizza Hut is getting out of the sit-down restaurant business. It's becoming a strictly carryout and delivery pizza chain, like Domino's and Papa John's.
The "Burger King of Tomorrow" is incorporating technology such as self-order kiosks inside and digital menu boards at the drive-thru.
Applebee's will be focused on off-premises catering, takeout and delivery services and is looking at healthier items and more ethnic food choices.
If you can schedule 30 minutes to watch the presentation below, you will finish it thinking differently. "Creating Restaurants for Tomorrow's Impatient, Distracted Customer | Brian Solis at RestaurantSpaces."
---
Burger King has shared this invitation to their U.K. and France accounts to encourage small dining businesses to use their Instagram page for ads. For free. Well done, Burger King ????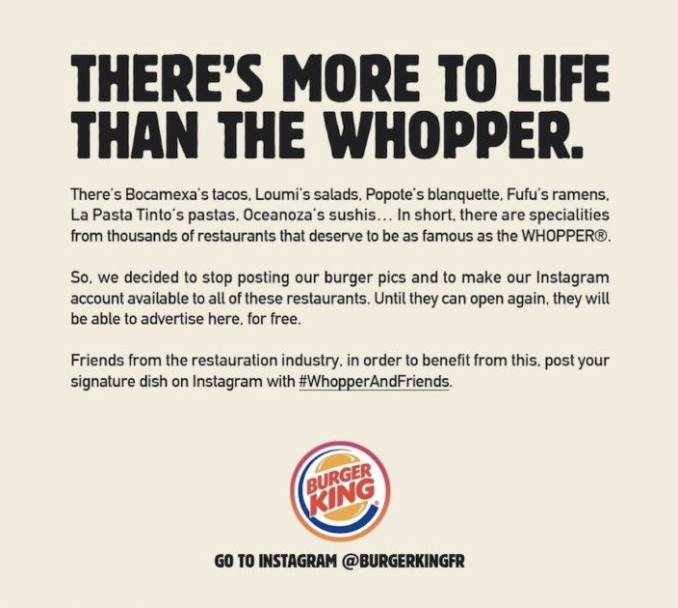 By offering to help other businesses, Burger King has tremendously boosted its own public image. That's worth far more than any Whopper images they could have posted instead.

Burger King wants to ensure that their marketing efforts reflect the values and the environment around their stores; DMOs have certainly understood this in 2020.

When the pandemic is over, consumers will remember the brands that tried to help. And their sales will reflect the karma they've generated. Do you agree?
Fun facts: The BURGER KING® system operates approximately 12¸200 restaurants in all 50 states, 76 countries and U.S. territories. Approximately 90% of these restaurants are owned and operated by independent franchisees; many of them are family-owned for decades.
---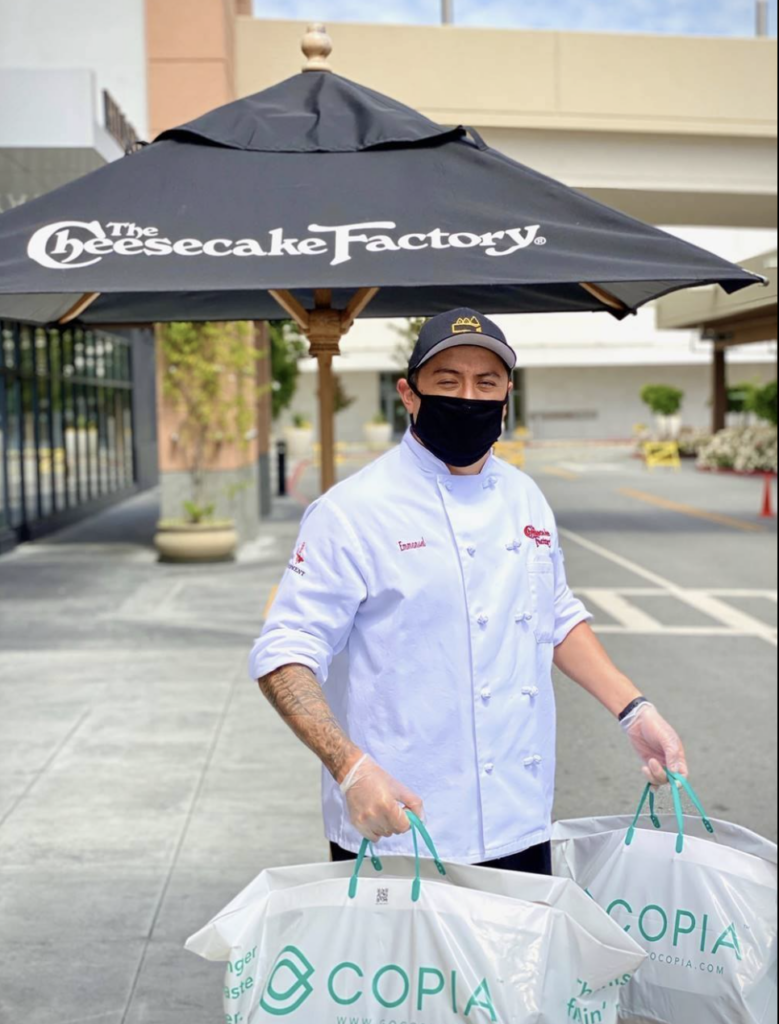 The Cheesecake Factory had been unable to consistently find nonprofits equipped to receive all of the food donations it could offer.
In 2020, Nourish Program leverages the Copia mobile app so that each restaurant can donate excess food when and where it's needed locally. Donations are picked up on demand and delivered directly to nonprofits through Copia's integration with DoorDash. The initiative enabled The Cheesecake Factory restaurants to donate more than 20,000 meals to frontline healthcare workers and nonprofits in local communities that have been impacted by rising food insecurity due to COVID-19.
Considering how many of the restaurant's 250 menu items cannot be finished, it amounted to 400,000 pounds of donated food just through September.