Think Diane Keaton, Meryl Streep, Martha Stewart, Ina Garten (for a rotisserie chicken recipe), Nancy Meyers (the queen of romcom movies). The coastal granny embodies a summer trend that is SO not trendy; she's easy-breezy, laidback, yet immaculate and elegant. She's got hydrangeas, heirloom tomatoes, lots of linen, and a book club.
In case you've missed it, The Coastal Grandmother™ effortlessly stylish aesthetic was coined — and trademarked — by TikToker @Lex Nicoleta (142.6K followers) in March. Its creator is 26, lives in California, and she has even created a Spotify playlist (the greatest hits of Frank Sinatra, Otis Redding, Norah Jones, and John Legend included) for which the signature song is "This Will Be (An Everlasting Love)" by Natalie Cole.
Nicoleta explains, "So, no you don't have to be a grandmother to be a coastal grandmother" and you don't have to live at the coast. But, you sure can GO to the coast, as in the quintessential Carmel-by-the-Sea, California.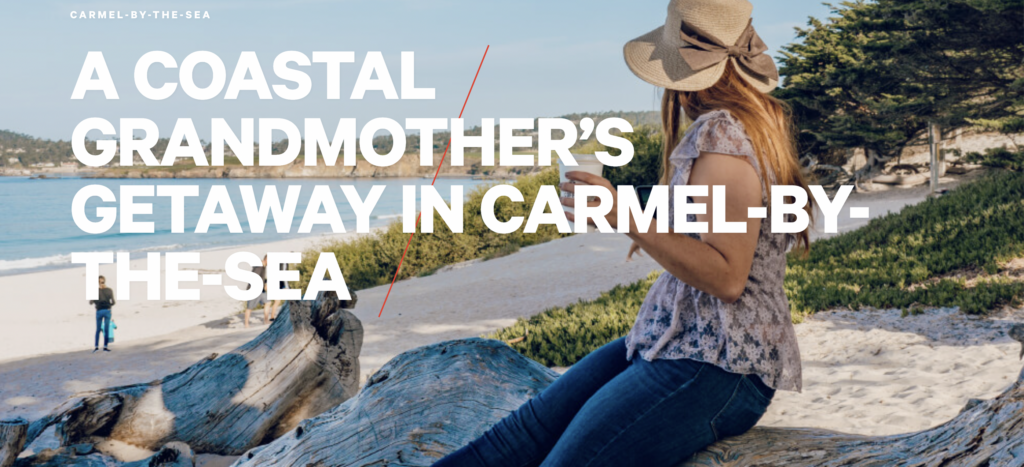 Why are we telling you all this in The Travel Vertical? Because we love what The Abbi Agency did in strategically pairing the persona with the place. As Owner Abbi Whitaker says, "Well, Visit Carmel and The Abbi Agency knew we had to jump on the opportunity to leverage the news coverage since Carmel-by-the-Sea is SOOOO coastal G-MA. We were the first destination to partner and it resulted in some amazing results!" Read on:
"Post pandemic, The Abbi Agency worked quickly and strategically to set Carmel-by-the-Sea apart from every other West Coast destination as travel was on the rise. With DMOs everywhere working to generate visits and gain attention from shared audiences, we recognized the viral trend taking over both the social media and PR spaces. Carmel-by-the-Sea truly emulates the Coastal Grandmother trend, thanks to the luxurious coastal aesthetic and classic California vibe. We jumped on the opportunity to invite Lex for a Coastal Grandmother's Getaway, with the goal of targeting a new audience (GenZ) and bringing more eyes to the brand. In doing so, we were the first destination to host the Coastal Grandmother for the itinerary-style partnership."
The Outcome?
"Social media saw incredible results from the influencer partnership. Lex Nicoleta's loyal audience loved her content—her three videos, all of which mentioned Carmel-by-the-Sea, received a combined 152,800 views on TikTok. In total, Lex received over 17,000 engagements on TikTok. In the three months following the partnership, Carmel-by-the-Sea's TikTok platform saw an increase of 1867% in follower growth.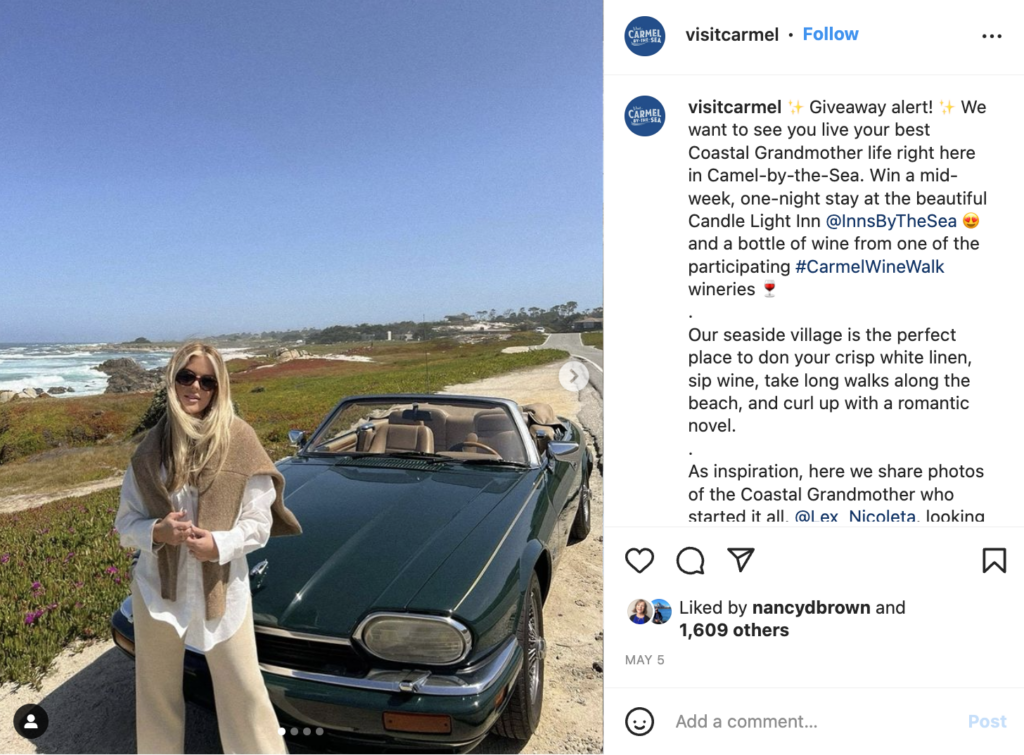 On Instagram, the giveaway reached more than 25,000 accounts (almost a quarter of which were non-followers) with 2,000 engagements, leading to 470 new followers that month. This contest received the most comments out of all posts in 2022, and the third most top-performing post in driving profile visits for Carmel-by-the-Sea.
The strong social media content also generated earned media attention, with stories from Fodor's Travel, FOX News, and the Washington Post coming to life within three months of the partnership. Together, these articles received upwards of 295,000 coverage views among the top tier outlets."