Since 1995, Mary Meeker has been dubbed "Queen of the Net" for her epic annual analysis about the state of the internet and how everything is affected by it.
The 2016 Internet Trends Report produced by Silicon Valley venture capital firm, Kleiner Perkins Caufield & Byers, clocked in at 213 slides.
One slide is being called is "the killer slide for travel marketers" [Tnooz, 6/3/16] because it shows that just two companies account for three-quarters of the year's internet advertising growth.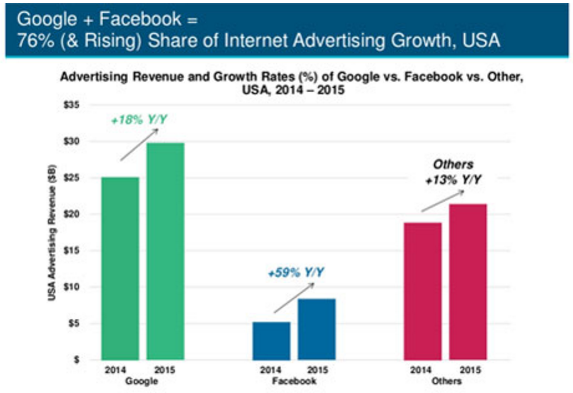 Find out what Mary Meeker has uncovered about digital ad trends:
big missed opportunities in mobile advertising
rise of ad blocking software
how messaging apps are moving into "conversational commerce"
why video ads are most promising (Snapchat)
why Millennials matter and how to reach them (images and video)
the growth of voice interaction, the new paradigm
For the 2-minute Tnooz summary (which has a link to the full report and a video of Mary's presentation at the Code Conference), click here.