Inspired by Iceland has done it again. Another destination video that makes you laugh AND really want to go to the place…this time, featuring horses that trot out your OOO emails while you're on vacation in Iceland.
"Nothing ruins a glacier hike like an email from your boss. Thankfully, Iceland's very special horses will reply to your work emails so you can enjoy your vacation in peace (Seriously). Visit OutHorseYourEmail.com to try it!"
Sveinn Birkir Björnsson, Director of Marketing Communications at Business Iceland, says, "From the people who brought you the Icelandverse, comes a revolutionary new service. A technological marvel. OutHorse your email. Your boss will never know the difference. Jokes aside – this is one of the weirdest ideas I've ever said yes to."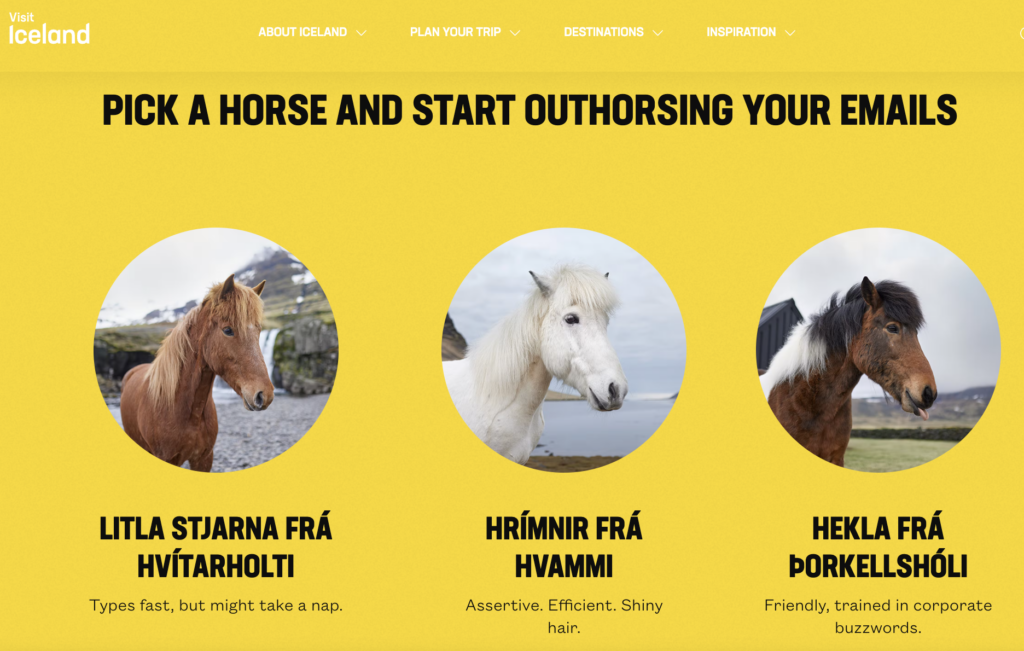 Here's the backstory of the horse-sized keyboard, the Icelandic horses, and the video creation.
Related: Visit Iceland Produces an Outstanding Parody of Zuckerberg's Metaverse
More!
We're looking forward to more award-winning digital excellence at the eTourism Summit eTSY Awards announcements and presentation on Tuesday, June 7, 2022 at 1:45 p.m.