The Countdown Begins
The 23rd Annual eTourism Summit 2022 on June 6-8 is less than eight weeks away.
#eTS22 connects destinations and leading vendors with the latest practices and innovations in digital media.
Destination marketers and their strategic partners in data, research, analytics, content, video, media and creative form a collaborative community not found anywhere else in the world.
In an intimate setting, you get up-to-the-minute, real-life examples of the latest applications in video, content marketing, email marketing, search, social media, mobile and web design. You'll learn how fellow tourism marketers and their media agencies are using the newest tools to build incremental traffic at every stage of the funnel while hearing dozens of case studies to find out what's working and what's not.
So many outstanding speakers have committed that we cannot tag them all…but here's a start. Thanks to Alvaro Melendez (CRANT), Laura Fernandez (SiriusXM), Justin Farmer (MMGY Global), Ana Reyna Arzate (Visit Laredo), 🗺 AJ B. (Wander App, Inc.), Marina Petrova (Places.), and Reshonda Perryman (Visit Jackson) for joining the speaker lineup…and there are more names to come all the time. Visit the eTourism Summit website for regular updates.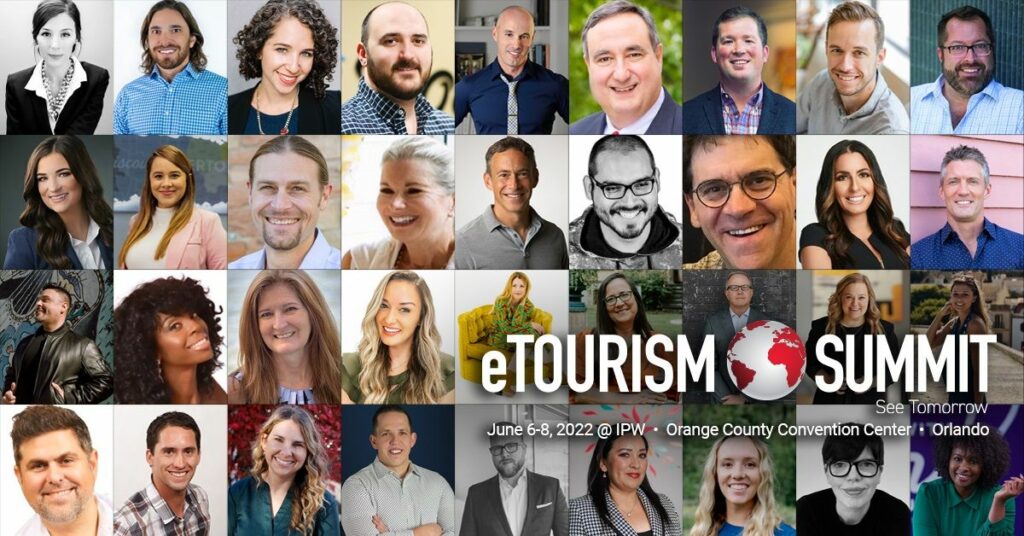 Who Should Attend?
Destination Marketing Organizations
City, state, county, and regional travel associations
Attractions
Cruise lines, airlines, and hotels
International tour operators
Interactive marketing agencies
Advertising, public relations, and marketing agencies with travel industry clients
Benefits of Attending
Pick the brains of pre-qualified experts on all aspects of interactive tourism marketing
Meet and network with the country's leading e-commerce travel companies, all in one place.
Have access to selected presenters to answer any of your questions.
Get a deeper understanding of the trends that will be affecting your business over the next five years.
Register now to be there in person* for the greater-than-ever networking and to hear compelling case studies, expert panels, stimulating roundtables, Emerging Tourism Leaders, eTSY Award winners and lots more. *yes, there is a virtual option