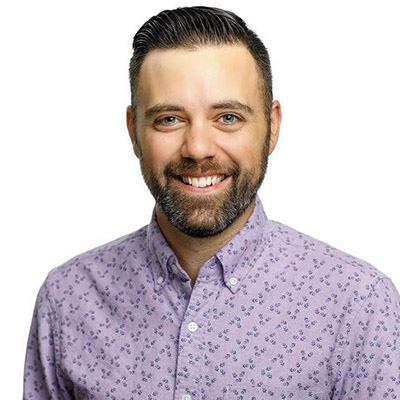 Congrats to Jake Brown, Content Manager at Visit South Bend Mishawaka. He's one of eight winners in the inaugural Emerging Tourism Star class, a program in partnership with MMGY Global.
Readers will meet the winners in upcoming issues of The Travel Vertical and they'll all be recognized during the 22nd Annual eTourism Summit on Sept. 20–22, 2021 in Las Vegas.
What's an Emerging Tourism Star? Savvy individuals (of any age!) in destination marketing and attractions that are new to the eTourism Community of digital travel and tourism professionals or have risen to the challenges of a role.
Winners will be directly connected with a travel and tourism leader as a mentor
Winners receive a scholarship to attend eTourism Summit
Winners will be on a panel conversation moderated by MMGY
One winner will fill the eTS Emerging Tourism Star Advisory Board Seat (an annual appointment)
Q: How did you first get introduced to your role as Content Manager at Visit South Bend?
A: It's kind of a long story, but in the end it was just about meeting the right people. I was a columnist and reporter for the South Bend Tribune at the time and was working with some Visit South Bend Mishawaka staff, including our marketing director, on a story. They thought I would potentially be a good fit for a content position, so I took a closer look at it. I saw a lot of skills that could transfer over and had been looking at a potential career change for a while. It worked out better than I could've imagined.
Q: When did you attend your first eTourism Summit. And what did you think?
A: I started with VSBM in April 2018 and eTourism Summit was my first conference that October. I remember being floored by the marketing creativity in the DMO space and a little overwhelmed. At that point I still had this massive learning curve after not only taking a new job but switching from journalism to marketing. It was a really motivating experience. I wanted to bring big ideas back home and push myself professionally.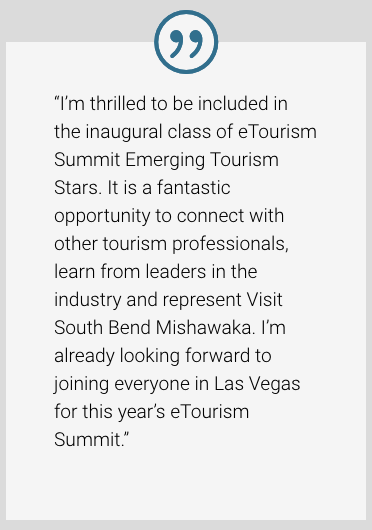 Q: How important are the relationships you initially made at eTourism Summit?
A: They've been invaluable. Everyone was and is really welcoming, so eTourism Summit made me more comfortable as I dove into the industry. My first eTourism Summit is actually where I initially connected with Jeff Robinson, the senior director of marketing at Visit Indy, and Brian Matson, the senior director of strategy and education at TwoSix Digital. Both have been huge influences on my tourism career so far. There's no way I'd be where I am in the industry without being able to tap into their wisdom (and that of many others I'm leaving out here).
Q: For years, content management has been the #1 pain point mentioned by eTourism Summit delegates. In what ways do you think the pandemic has impacted that need?
A: This is a great question. Among the many things that pandemic highlighted in DMOs (and other organizations) is the need to communicate clearly, concisely and quickly. In the end it all boils down to relevancy. Are you delivering quality content that your audience needs and wants or not? Is the content engaging? If not, they're going to find it somewhere else. The pandemic impacted this with how fast things could change, but it mostly reinforced something we already knew.
Q: What are some of the fun projects you've been working on lately?
A: We launched our first digital passport with Bandwango earlier this summer. We'd been considering it for awhile and it was fun to produce something that's been a hit with the audience and the partners involved. We're getting pretty close to debuting a new website as well. It's the first time I've been involved in a website build, so that's been a pretty cool process. It's going to include a dedicated blog, which has me pretty fired up as a former journalist. We're also in the early stages of embarking on a big video project that's going to really reshape how we're showing off our destination visually. Very excited to see that take shape.
Q: What next for Jake Brown?
A: Hopefully a little more golf before summer gets away. Kidding. But seriously. I just want to keep growing as a tourism marketer. There's always so much more to learn and I love the process of continuing to hone my craft. I think if you get lost in the process, good things come along the way. It's been a really great journey so far.