American Airlines wasn't ready. Hundreds of flights cancelled as TSA throughput continues its steady rise. A report on road trips, plus traveler sentiment, which says "beaches" are #1.
Desperate for Baggage Handlers and Pilots
American Airlines, "the world's largest airline," says it was "forced to cancel" a few hundred flights this weekend (123 on Saturday, 178 on Sunday) due to significant staff shortages and maintenance issues. As of Monday morning, 134 American flights were canceled and another 260 were delayed, according to the flight tracker FlightAware.
The airline, which laid off / furloughed / offered early retirement to 30,000 workers during the pandemic, and received several billion in government bailouts, says it will continue cancellations of 50-80 flights daily well into July.
The Twitterverse is decidedly unsympathetic, pointing out that planes, pilots, crew, support staff are obviously needed before tickets are sold. Travelers looking for information will find no mention of the situation on the airline's Twitter page @AmericanAir.
---

TSA checkpoint travel numbers, updated daily, indicate that Sunday, June 21, 2021 hit just over 2.1 travelers, the busiest day since March 7, 2020. The "throughput" number was four times higher than the same date last year while still short of the 2.7 million passengers on the same date in 2019.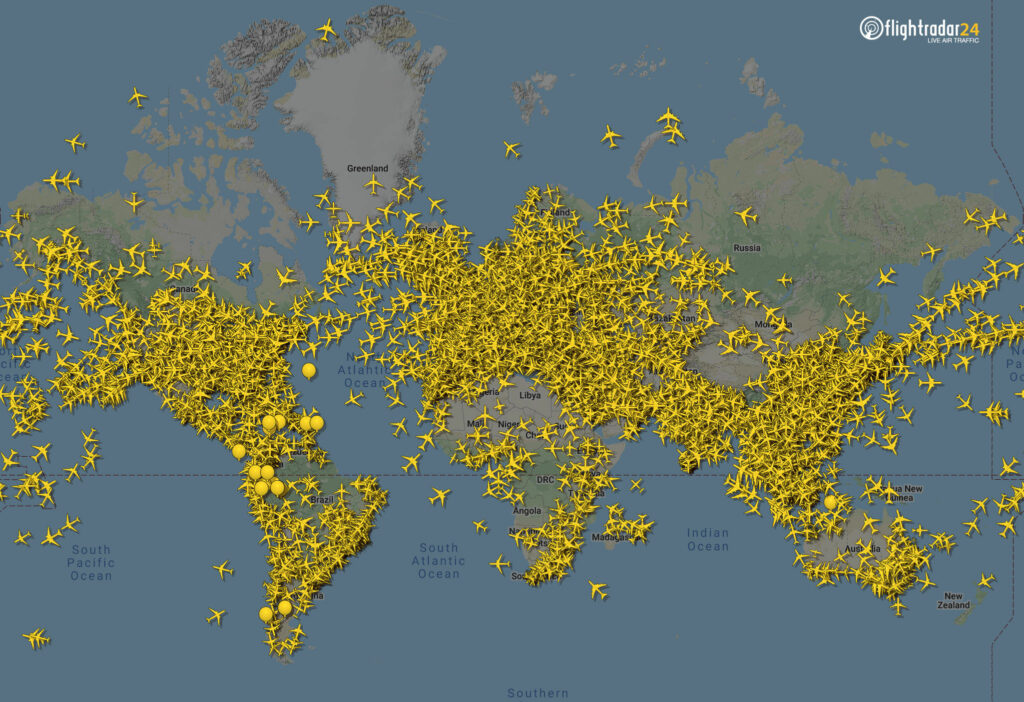 Planes in the sky are tracked at flightradar124.com/data/statistics, showing that on Friday, June 18, 2021 there were 92,095 commercial flights, more than any day since mid-March 2020.
---
Which Way to the Beach?
April 2021 saw an increase of 54.6% over April 2020 to the tune of 256.5 billion vehicle miles. The Federal Highway Administration tracks Traffic Volume Trends monthly.
And, Arrivalist says July 4th weekend predictions are out — a 25% Y/Y increase in road trip activity over the holiday weekend, with 43 million Americans expected to hit the road, surpassing 2019 levels.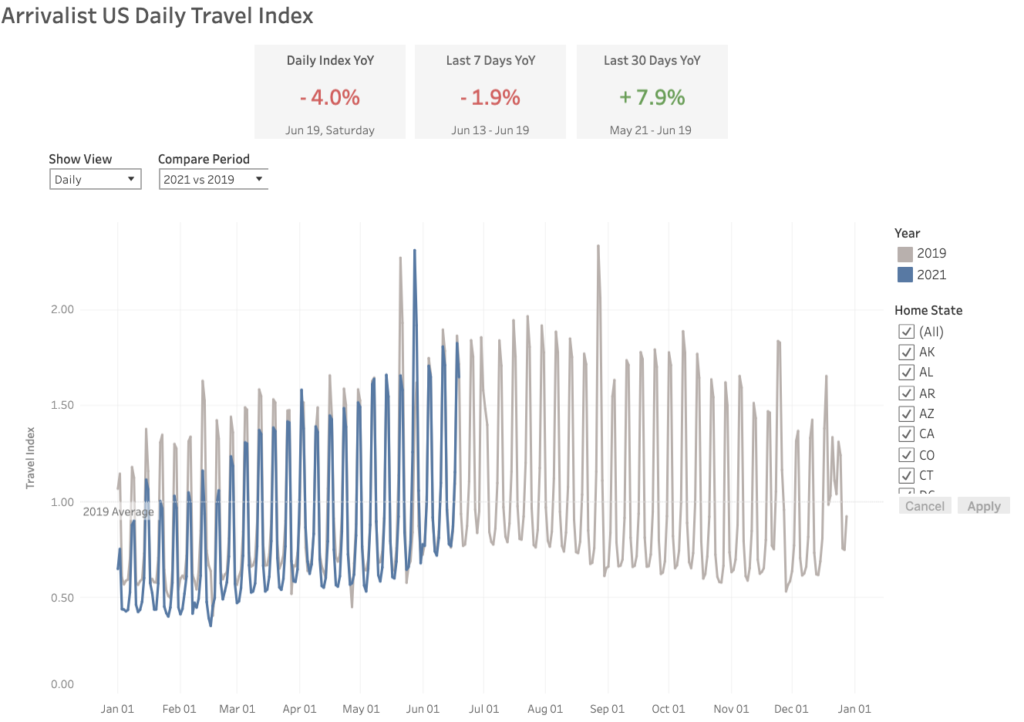 Reminder: To see what's going on in your neck of the woods, go to Arrivalist's Daily Travel Index and use the drop down filter. This tool "measures consumer road trips of 50 miles or more in all 50 U.S. states. The data is drawn from a panel of GPS signals representing road trips taken by car. The insights have been prepared to help travel marketers and other industry professionals gauge fluctuations in drive market trips in any of the 50 U.S. states."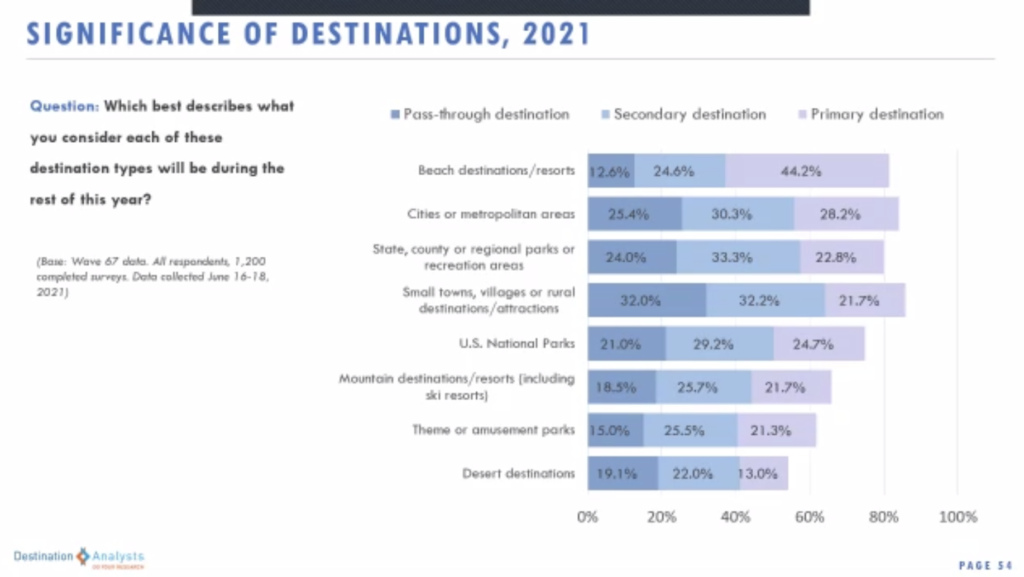 The latest surveys indicate that beaches are #1.
Reminder: To stay up-to-date on American traveler sentiment, travel intent and more, follow Destination Analysts and Longwoods International. Their regular surveys, frequently published in The Travel Vertical, reports and webinars have been invaluable throughout Covid-19 and remain so in recovery.