Cool examples of on-brand social distancing to illustrate six feet.
Tupelo, Mississippi: While the rest of us cannot claim to be the birthplace of Elvis Presley, Tupelo can.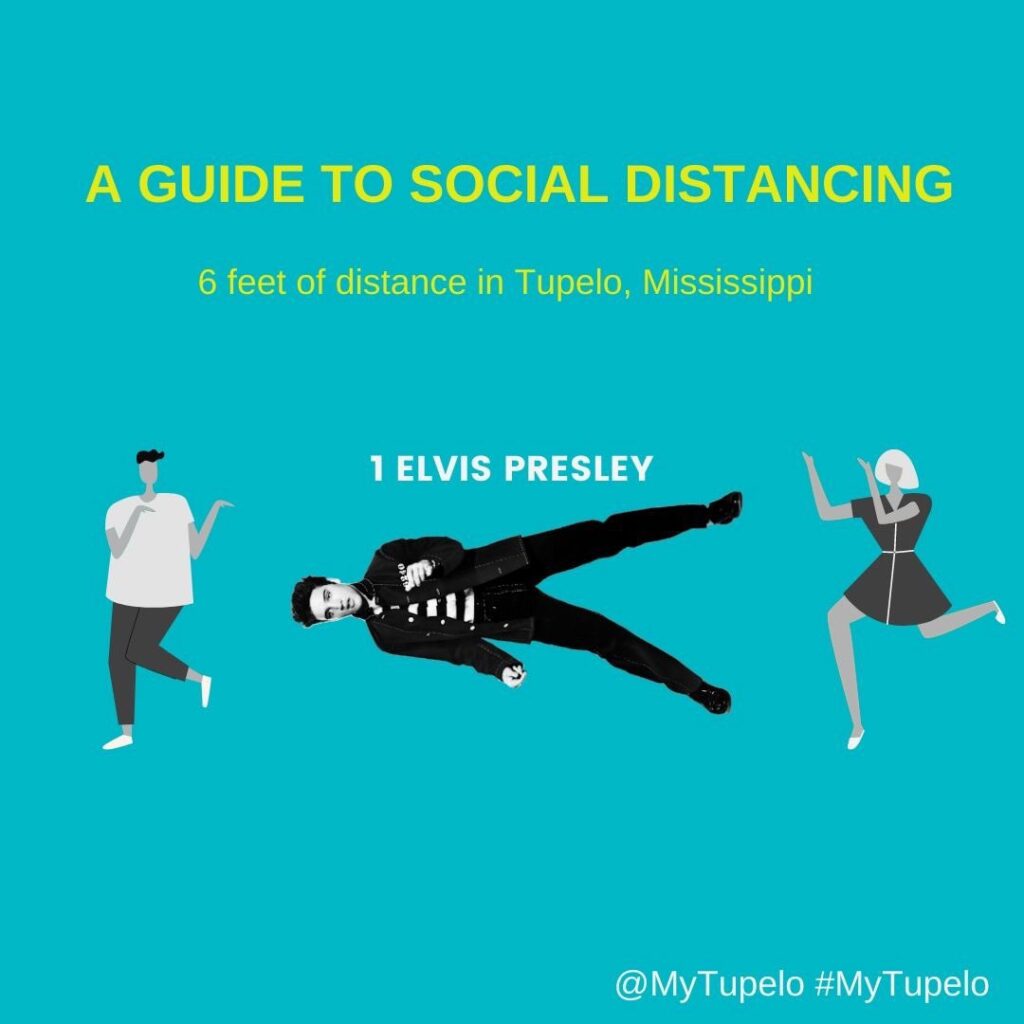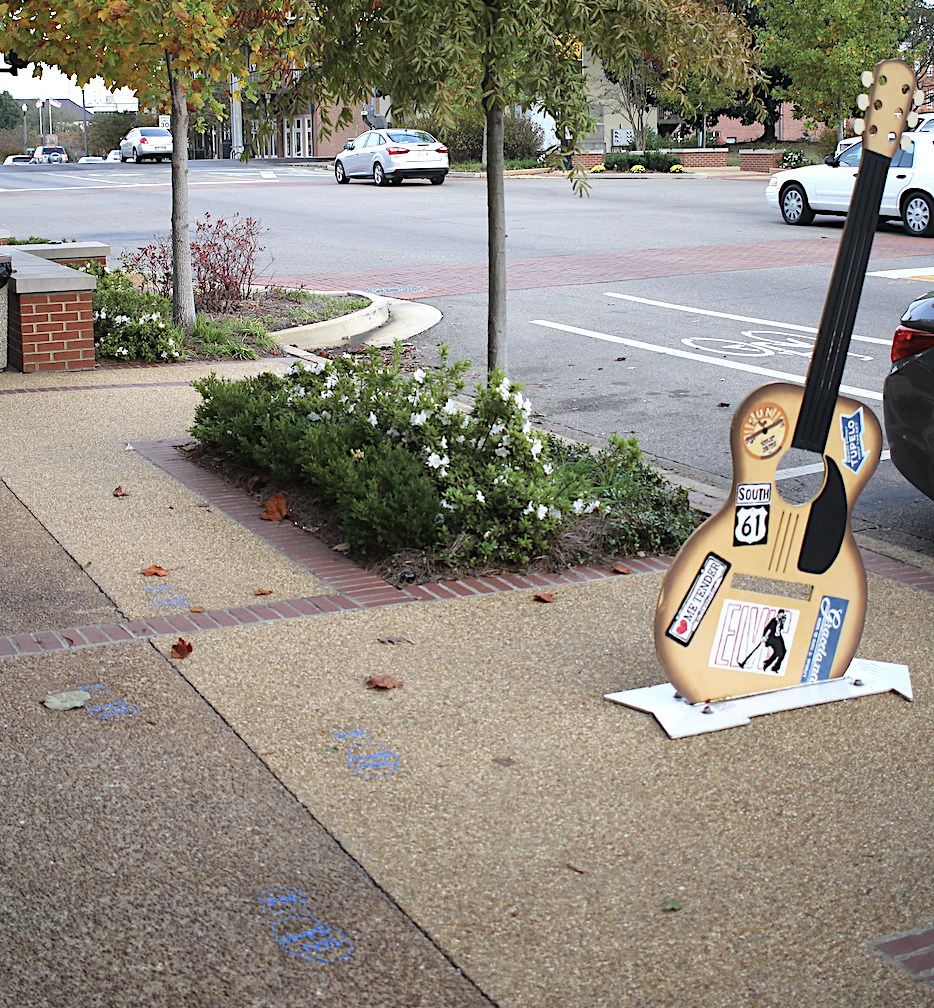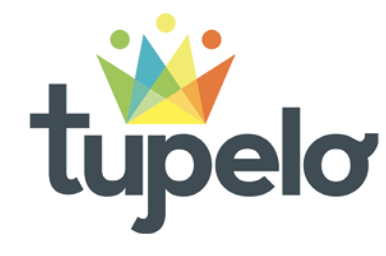 If you think of The King's 1956 recording of "Blue Suede Shoes," you can see where this footwear-associated social distance branding is going…Visit Tupelo is having fun with it.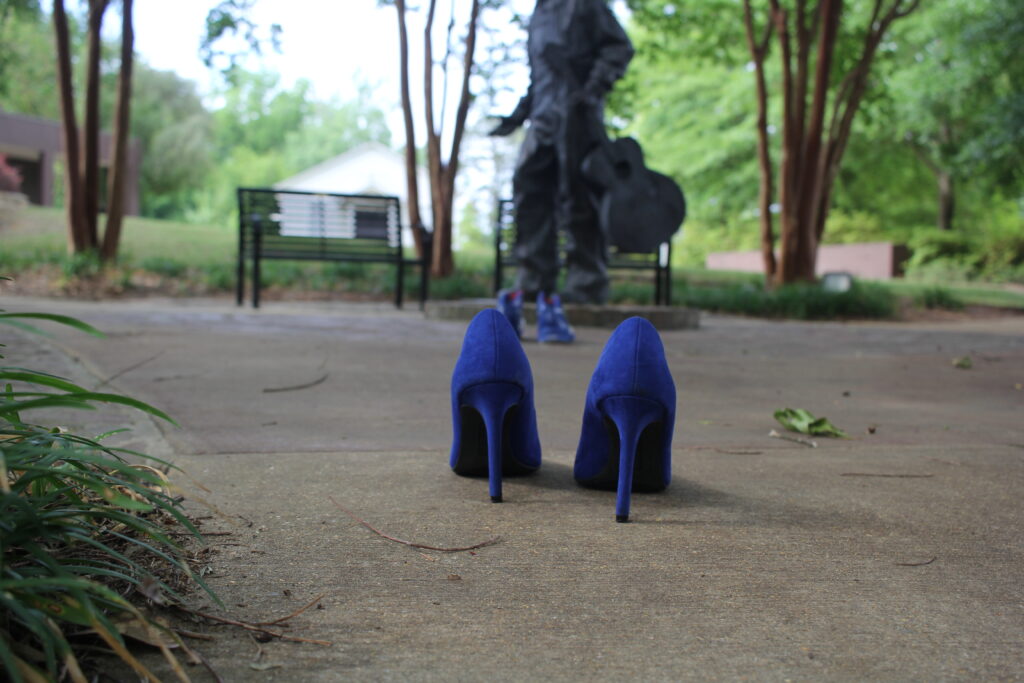 ---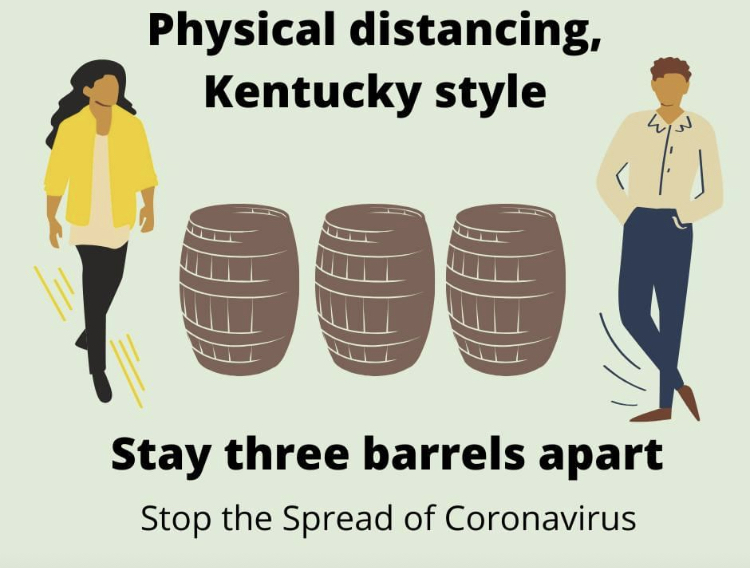 In Kentucky: Physical distancing is measured in bourbon barrels.
---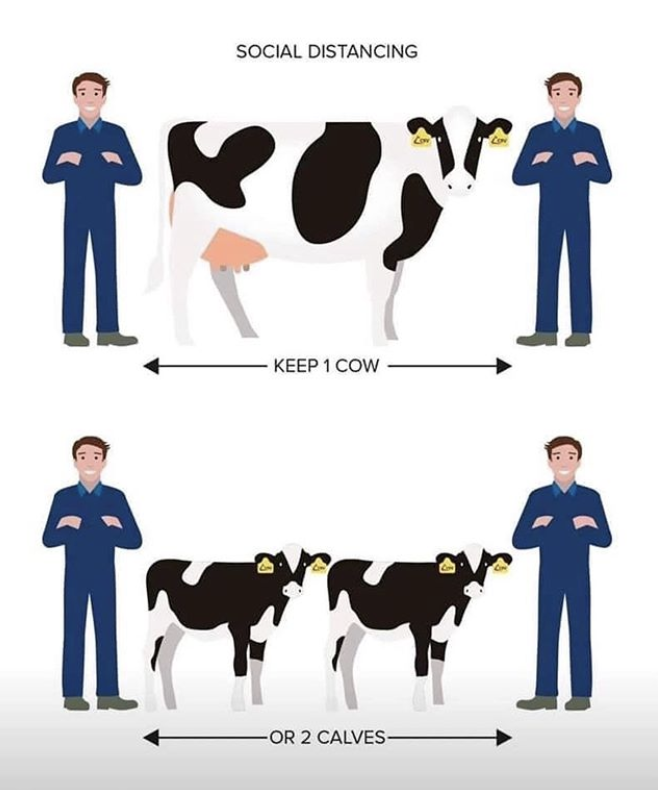 Wisconsin: Moo-ve over. The University of Wisconsin at Madison translates six feet like this.
---
Utah: This infographic in the shape of the state rocks.
How many downhill skis does six feet look like? Salt Lake Health says one-and-a-quarter.
---
More social distancing, Sconnie Style: "Milwaukee Brewers star Christian Yelich is 6 feet 3 inches tall, so imagine him sliding into home to score the winning run to beat the Cubs," suggests the Milwaukee Journal Sentinel. "That should give you more than 6 feet of social distance." (Photo: Lou Saldivar/Milwaukee Journal Sentinel)
---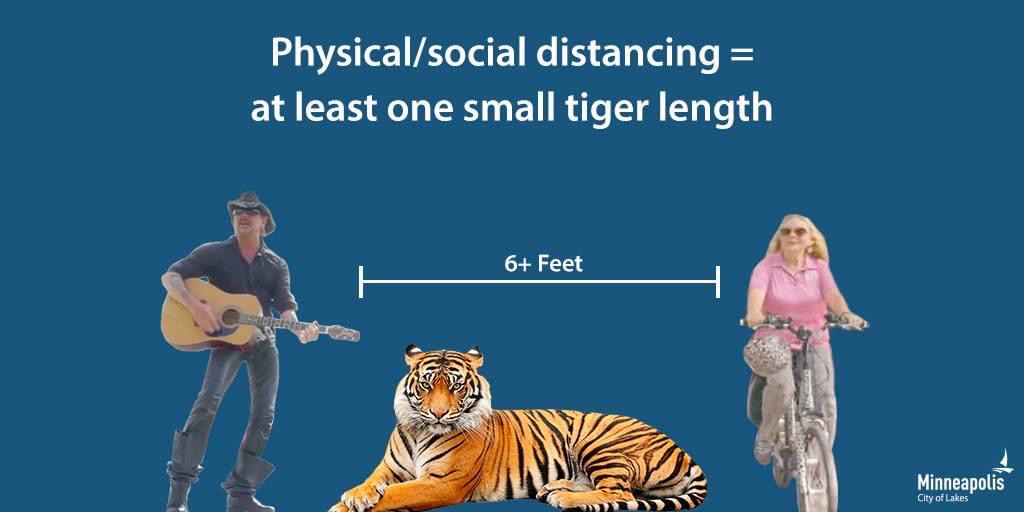 The City of Minneapolis caught a trending "newsjack"to share this graphic featuring Joe Exotic (left) and Carole Baskin (right) from Netflix's hit "Tiger King" series to encourage social distancing.
---
In Pinehurst, North Carolina, one of the America's top ranked courses where—of course— measurements relate to golf carts, golf balls, irons and tees.
---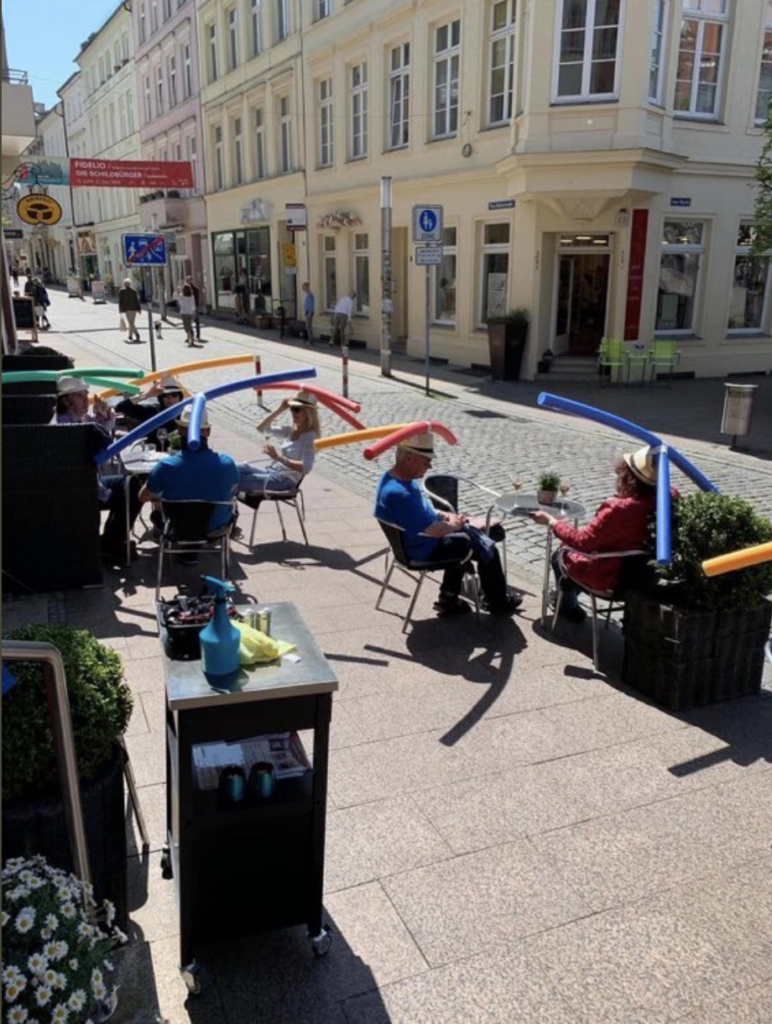 Germany: What's with the propellers? These are the latest fashion in social distancing hats supplied by management at an outdoor cafe in Schwerin, a lakeside town in Northern Germany.
You don't wear it, you don't get served. What color would you choose?

---
This is now "Stars and Stripes," the American military's newspaper since WWII, translates social distancing for the U.S. Navy.
---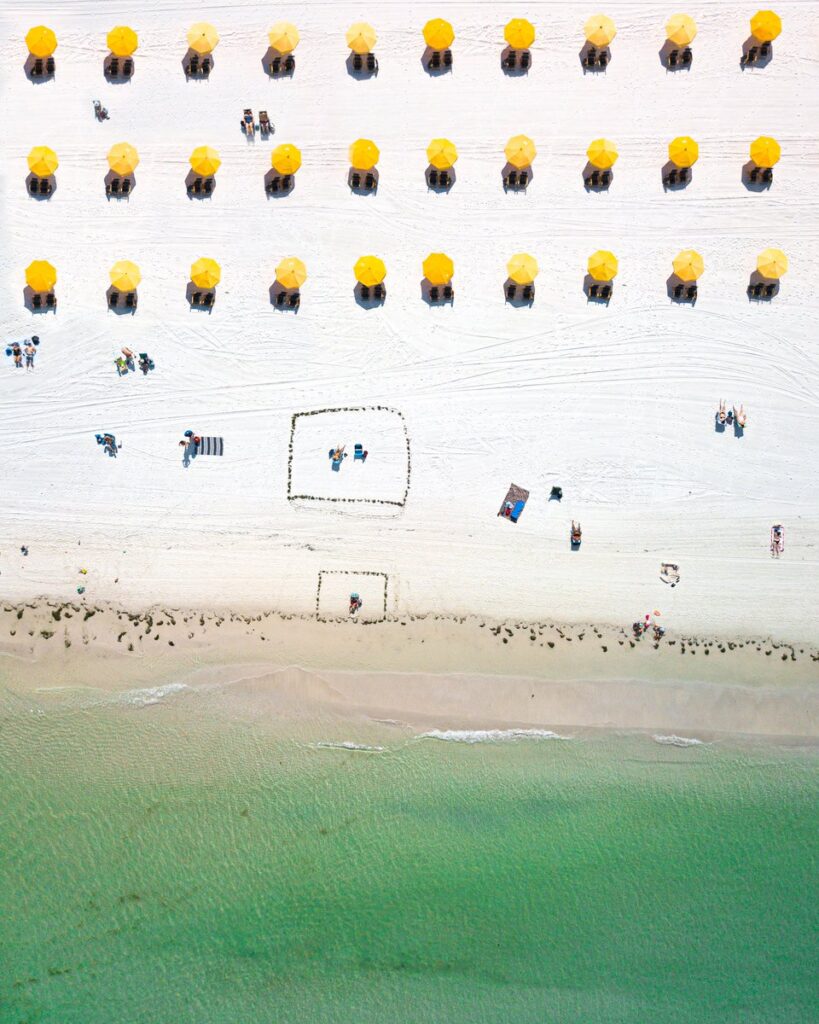 St. Pete/Clearwater, Fla.
<- Build your own beach on the sand? Social distancing gets an assist from the creative use of isolated seating inside a seaweed square.
In fact, VisitStPeteClearwater.com has written "A Guide to Social Distancing" and it's on brand.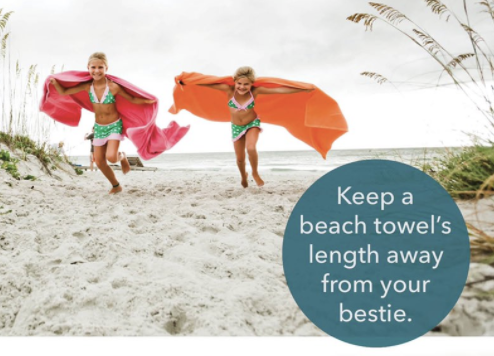 Keep a beach towel's length away from your bestie.
Leave enough room for a pelican to fly between you.
Talk to your friends from one green bench length away.
Play shuffleboard with your friends at the other end of the court.
Imagine being one dolphin length away from other spectators.
---
Leon County came up with a standard that every Floridian can memorize: imagine the space as one large alligator. The social media post illustrating a sizable, angry-looking reptile between two faceless figures garnered thousands of shares and hundreds of reactions.
---
Spain: If you never much cared for getting sand kicked in your face anyway, the beach of the future may look appealing.
In Galicia, the solution on the Silgar beachfront is proposed as five cordoned-off sections of 780 spaces, each measuring nine square meters and marked out by wooden posts and color-coded ropes. One space allows two people, two spaces can have five, three can have eight, and four can have 12. Between each slot there will be a 1.5-meter gap to ensure social distancing.