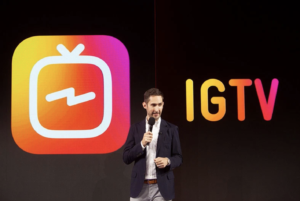 Everyone wants a bite of the YouTube empire…remember Vine, Periscope, Google Plus? Instagram (Facebook's younger sibling) is ready to compete with YouTube (some influencers, a.k.a. creators, say it won't be competition at all), making two announcements at the end of June.
ICYMI: The first, that the Instagram audience had grown to one billion monthly active users. The second, that IGTV is out now. It's a brand new app which encourages users to spend extended time on the platform. At the launch, @Kevin talked a lot about Instagram "creators," but IGTV is available to everyone. Notably, creators can create videos up to one hour in length.
Related: A dedicated Instagram for Business page explains more about how to shoot creatively using vertical video. YouTube is flooded with explainer videos on the topic.
What to know about the good, the bad, and the ugly on IGTV:
Update the Instagram app and IGTV icon appears at top right
Videos can be up to 10 mins or 60 mins (!) for creators
Upload vertical videos through Instagram's app or the web
Cinematic challenges on a vertical orientation

Dedicated app or its in-Instagram experience

Available on Android & iOS
Videos are shot vertically to fill the screens of smartphones
Use longer, permanent video for deeper storytelling
No search facility for long tail keywords or hashtags
Still…no clickable links
It's tricky to re-purpose horizontal video to vertical
Influencers are talking about monetization for creators by Jan. 2019
No advertising (at least not…yet)