Spud Hilton, travel editor at San Francisco Chronicle, takes a close-up look at one of the options being offered by Airbnb as part of Trips, local experiences introduced last year. (Related: "Airbnb Expands Into Holistic Travel With Launch of Trips Platform," The Travel Vertical 11/30/2016.)
At Baker Beach with its spectacular Golden Gate Bridge views, Spud finds a 90-minute, $29 class called "Sunset Silent Disco Yoga" setting up on the sand.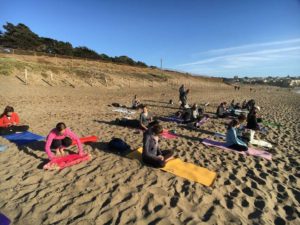 Is this kind of thing the game changer that Airbnb suggested? P.S. Did you notice that Airbnbmag was launched last week?
Read Spud's article on experiential tourism here.