OK. Basically round sunglasses with video cameras imbedded that upload your Snapchat app.Wearers can take 10-second videos that automatically upload to the Memories part of Snapchat's app. The spectacles (in black, blue, or coral) connect to your phone via Bluetooth.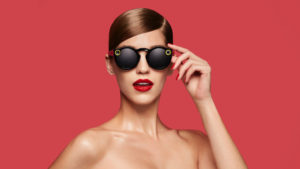 You're limited to a purchase of two at $130 plus tax…if you can get them. A New York Times finance and tech reporter waited 6.5 hours last week after seeing on Twitter that a pop-up shop with bright yellow vendor machines had opened near Apple on Fifth Ave. He got one of the last three pairs sold that day as hundreds were turned away.
Watch this page: Snap, the company that runs the social media service Snapchat, having rebuffed a $3 billion offer from Facebook in 2013, is expected to generate $1 billion in revenue next year and is headed for a blockbuster IPO (rumored at a $30 billion valuation) in 2017.
Read the summary of Snapchat's path to a big payday here.
To hear all about Snapchat Spectacles on Facebook Live, NYT journalists Michael de la Merced and Brian X. Chen share their impressions of the smart shades here.