Beards, selfies, craft beers, tattoos…are you tapping into the massive buying power of Millennials? Is your destination a magnet for Millennials?
The brand new Millennial Destination Desirability Index (MDDI) metric from Cooperatize provides some answers. Introduced by Co-founder Al Chen at April's DigMe Summit in Philadelphia, they analyzed hashtags on Instagram to understand what Millennials were talking about and geo-tags to figure out where.
See the Cooperatize slide show presented here.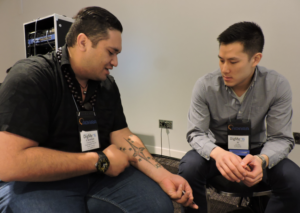 Christian Mani (left), marketing manager for Cook Islands Tourism, talking tattoos with Al Chen, Co-founder, Cooperatize.