When we share the best creative ideas — including examples of what not to do — we all save time, save money and the promotion of tourism is the beneficiary. Case studies from eTS15 included cheap beacon technology, free wine and paid songwriting.

Reno/Tahoe Beams In On Affordable iBeacon Technology presented by Rick Saake, Chief Marketing Officer – Reno/Tahoe USA, featured iBeacon stickers used at key visitor touch point locations such as airport baggage area and at the convention center.
Louisiana Office of Tourism underscores the importance of the destination's music heritage in a multi-pronged approach, explains Connie Boudreaux, Marketing Specialist. Songwriters are paid to show their passion, musicians to perform Louisiana-themed music at out-of-state festivals and the state gets original musical content as well.
Emmy Kasten, VP of Marketing for Tri-Valley California CVB surprised and delighted local diners with an innovative slow season campaign, #SecretSomm, in a countywide promotion in her wine-centric region.More great ideas, all of them scaleable, have surfaced since October. Steal from these three and trailblazers or get more details from the folks behind them.

Super Bowl 50 is in San Francisco Travel's sites as they launch the "MY SF" training program designed for residents who regularly come in contact with visitors in their front line jobs. Emphasizing that visitors outnumber residents 21-to-1, the certification course focuses on enhancing the quality of visitors' experiences through positive interactions.
"Detroit Instagrammer Makes Leap to Billboard Ad Campaign Featuring the Motor City" is the headline. Auto factory tester TonyDetroit, with 393,000 instagram followers, got tapped to promote the city's spirit by 1800 Tequila brand, displaying 15 of his local shots on billboards across the city.
Visit Richmond (VA) redefines "impressions" with giveaway tattoos is a trendy idea for any event that draws a crowd.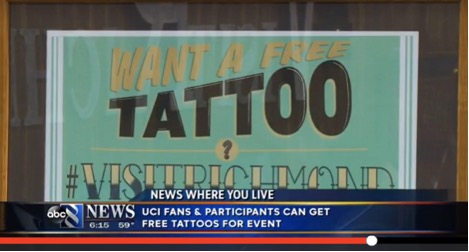 "Cycling fans from Puerto Rico to Beijing went home with a free tattoo souvenir from their time in Richmond for the UCI World Road Championship Race," reported the ABC-TV channel in Richmond, VA. Tourism marketers approached Absolute Art, a 20-year-tattoo parlor in the city, to provide free tattoos at the #VisitRichmond booth during the event. The Richmond-themed tattoo designs were hip and sentimental; top choice being the Richmond 2015 logo of a cyclist with stars.
Brilliant idea for the city of bike enthusiasts which ranks #3 in America for tattoo shops per capita. Congrats to Jennifer Hendren, Vice President of Marketing at Richmond Region Tourism.
Is your city on this list of the 10 US Cities with the Most Tattoos?