The latest Economic Impact Report (EIR) from World Travel & Tourism Council reveals the Travel & Tourism sector is expected to create nearly 126 million new jobs within the next decade. The bullish forecast from WTTC also shows the sector will be a driving force of the global economic recovery, creating one in three of all new jobs.
Let's hope they're right.
The EIR report shows Travel & Tourism's GDP is forecasted to grow at an average rate of 5.8% annually between 2022-2032, outstripping the 2.7% growth rate for global economy, to reach $14.6 trillion (11.3% of the total global economy). The report also shows global Travel & Tourism GDP could reach pre-pandemic levels by 2023 — just 0.1% below 2019 levels. The sector's contribution to GDP is expected to grow a massive 43.7% to almost $8.4 trillion by the end of 2022, amounting to 8.5% of the total global economic GDP, or 13.3% behind 2019 levels.
A report by the American Hotel & Lodging Association and Kalibri Labs found that hotel business travel revenue is expected to be 55% lower in the New York City market this year than in 2019. Read more about recovery in other U.S. cities in the New York Post.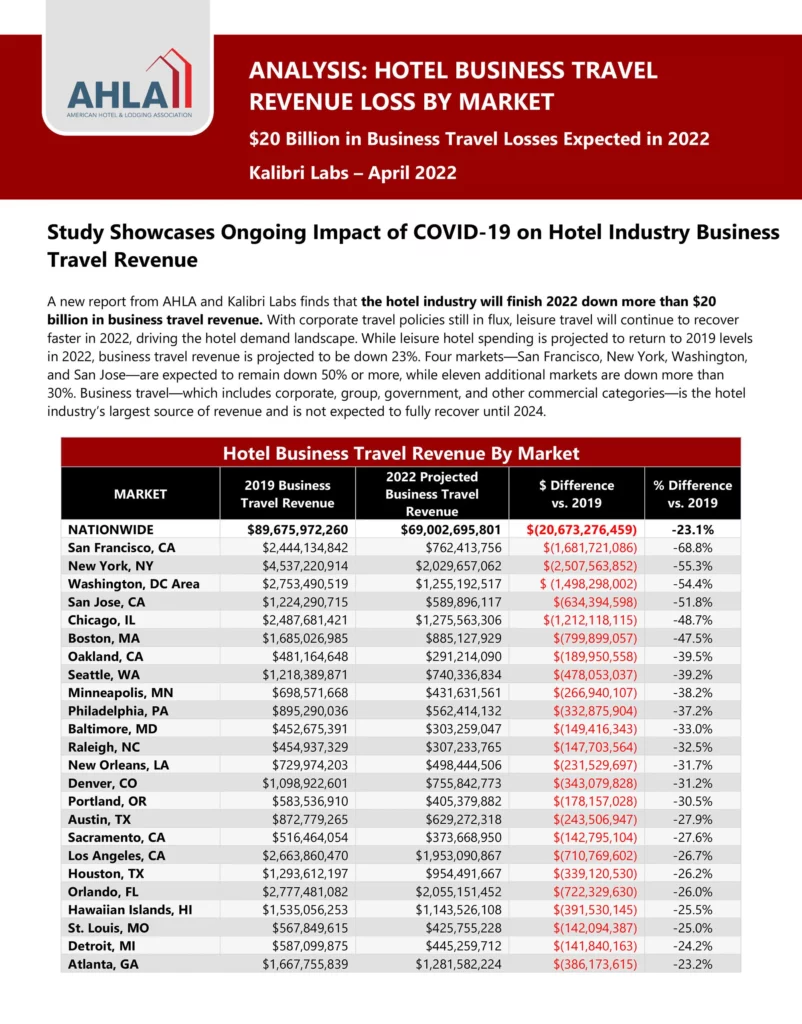 Colorado Tourism Tallies the Cost of Lost Business
We're digging out of a big hole.
The coronavirus pandemic cost Colorado's tourism industry nearly $9 billion in 2020. The latest figures from the Colorado Tourism Office show travel spending dropping to $15.4 billion in 2020, down from a record $24.2 billion in 2019. That's the lowest tally of visitor spending since the depth of the recession in 2011. (source: The Colorado Sun)
According to two annual state-commissioned reports and the annual report by travel research firm Dean Runyan Associates:
31,700 jobs lost, to 149,500 traveler-dependent jobs in 2020 from 181,200 in 2019
9.7% decline in earnings by travel-industry workers to $6.7 billion in 2020 from $7.4 billion in 2019
31.3% drop in traveler-generated tax revenue, to $1 billion in 2020 from $1.5 billion in 2019, which amounts to $439 million in state taxes and $588 million in local taxes
52.3% drop in domestic flights into Colorado, to 5.5 million in 2020 from 11.5 million in 2019
73% decline in international travel, to 280,000 in 2020 from more than 1 million in 2019
Spending on hotels, motels and inns dropped 36% to $3.3 billion in 2020 from $5.2 billion in 2019
Restaurants and bars saw a 24% decline in spending
Denver took the hardest hit in 2020, with a 56% decline in traveler spending.