This week, Visit Florida appointed Tallahassee insider Ken Lawson, as its new CEO following a pre-Christmas shakeup (See "Heads Roll…" in The Travel Vertical, 12/20/16).
Along with two other senior Visit Florida officials, former president and CEO Will Seccombe lost his job over Gov. Rick Scott's objection to a $1 million contract with celebrity Florida rapper Pitbull to promote the state via social media and a "Sexy Beaches" promotional video.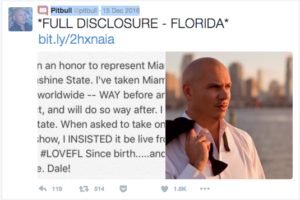 In December, Florida House Speaker Richard Corcoran sued Pitbull's management company to force disclosure of the contract terms after Seccombe refused, citing "trade secrets." Corcoran also called for the state's defunding of Visit Florida. Pitbull subsequently revealed the terms himself to his 23+ million followers on Twitter, also published in the Miami Herald.
Digital budget breakdown
From June 2015, the 12-month Visit Florida contract paid Pitbull:
▪  $250,000 for a "talent fee" and use of his name and likeness.
▪  $250,000 for the 4-minute music video "Sexy Beaches" with footage of Florida beaches and social media hashtag promoting Florida.
▪  $100,000 for a 10- to 15-second intro as part of Visit Florida's "Conquering Florida" video series.
▪  $100,000 for six "Florida Pit Package" sweepstakes to include travel packages to Florida.
▪  $300,000 for promoting Florida on social media platforms at least twice a month using hashtag #LOVEFL
Rapper kerfuffle
Naturally, the controversy over "Sexy Beaches" drove even more views worldwide. It features images of women frolicking in the sun, surf and sand at iconic Florida hotels such as Miami Beach's Fontainebleau and the pink Don CeSar Hotel in St. Pete Beach, reports the UK's Daily Mail, calling the matter a "rapper kerfuffle." The video concludes with an image of #LOVEFL written in the sand.
A good deal?
Miami Herald also reported, "Visit Florida CEO Will Seccombe said he'll never do another contract that doesn't disclose the terms because of the position the Pitbull contract has put everyone in. He insists the deal was a good one, allowing Visit Florida to reach an audience that avoids traditional advertising and media."
Scott supported increases in the amount of state money Visit Florida uses on advertising to entice tourists to the Sunshine State, which is now more than $70 million, according to Associated Press.
Mixed signals
"Scott, who previously had repeatedly praised the job done by Visit Florida, responded to the criticism by calling on Seccombe to resign. Seccombe's contract could have allowed him to claim more than $400,000 — equivalent to 18 months' salary — if he was dismissed for no reason. But Visit Florida's chairman negotiated a deal where Seccombe agreed to accept a payment of $73,000. Board chairman William Talbert said that the money would come from private funds raised by the organization," Associated Press reports.
Lawson, who currently earns $141,000 a year, will receive a salary of $175,000 and work without a contract," says the AP.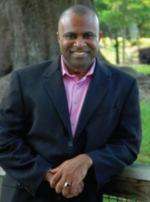 Learning curve
Visit Florida is hiring Ken Lawson, a former federal prosecutor and current secretary of the Department of Business and Professional Regulation, to replace Will Seccombe, who held the post since 2012.
Lawson is a native Floridian, a Florida State University graduate and former U.S. Marine Corps Judge Advocate General, who has spent 12 years in public service in numerous regulatory positions, including the US Department of the Treasury and most recently as secretary of the state's Department of Business and Professional Regulation (DBPR).  During his six-year tenure with DBPR, Lawson managed a team of 1,600 employees charged with licensing and regulating one million businesses and professionals throughout the state including gambling and the regulation of hotels and restaurants. Lawson does not have professional travel and tourism background, the AP points out.