What new flavor of ice cream is your destination? What might its wallpaper design look like? How would an original song of your city sound? Can you imagine a one-of-a-kind dining set to represent your town?
Visit Seattle posed these sorts of questions. They got the answers from five out-of-town creative artists open to being influenced and inspired by Seattle during a visit. Then they shared the tangible results via video storytelling. Like this: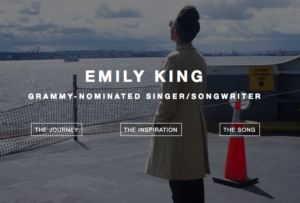 VISITSEATTLE.tv is an entirely new concept in a content channel celebrating the sights, sounds, smells, tastes and textures of the city. The latest series of five episodes appeared on Revolt TV, a music cable network from Sean "Diddy" Combs, and on Facebook Canvas.
The Travel Vertical talked to Ali Daniels, VP-Marketing at Visit Seattle to find out more about the latest concept and content execution, "Been There, Made That" and its Vox Media partnership.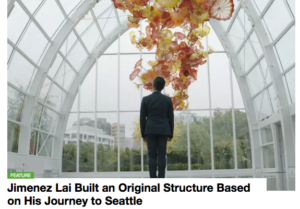 The Idea:
Can a city influence the work of an artist? It can when the city is as deeply textured as Seattle.
The visiting creative makers included a Grammy-nominated musician, a Caldecott Medal winner children's book author, a professional architect, a wallpaper designer, and the founder of an ice cream company. None of them knew what they'd find on their journeys, where the inspirations would come from, nor precisely what would result. 
To reach a huge demographic at the very top of the funnel with "edu-tainment" when people are just going about their day, not necessarily searching for a specific travel destination. The campaign "Been There, Made That" allows makers to chronicle the sensory experiences (See. Smell. Sing. Taste. Do. Build. Draw.)…"because visitors tell our story better than anyone else," says Daniels.
Visit Seattle has produced a number of different series resulting in 118 pieces of content seen on YouTube, Amazon Fire app, web-based VISITSEATTLE.tv, Revolt TV, and Vox Media.
The Partner:
Vox Media was chosen following an RFP. The media company has a massive digital reach (800 million+/monthly views) across portfolio of eight popular titles: Eater, Racked, Curbed, The Verge, SB Nation, Polygon, Recode and Vox.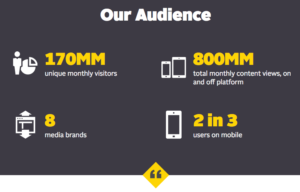 Activation:
"At Sundance, we are debuting a new series, Project Five by Five, where five filmmakers came to Seattle and created video shorts. We will be hosting a panel at SundanceTV HQ with the filmmakers followed by a pop-up party.  The party will include two Seattle chefs and a Seattle musician," says Daniels.

Target Audience:
We're calling them the "Advent-culturalist: 25-54 years old; we could refer to these individuals as 'sophisticated travelers.' They're highly educated, higher income, embrace urban/nature equally — as in a bookworm who likes to hike in the mountains, suggests Daniels. "We're not geo-targeting, we're affinity targeting and thus can connect with our audience by following them throughout their day."
The Agency:
Visit Seattle began the creative process in 2015 with Publicis Seattle, and have since moved to PB&, a smaller agency to carry forward the non-traditional approach.
Budget:
"We don't have a huge budget," Ali says. "However we suggest that a media partner is a key element for a DMO in developing a branded content partnership. There are opportunities out there that start as low as $5K to $75K via all kinds of focused partnerships — even a fashion brand for men."
ROI:
Handled in-house, the ROI analysis encompasses assessment and analytics on several fronts: engagement, views, social sentiment, RevPAR, and more.
What's Next?
In 2017, Visit Seattle is continuing the campaign with a museum-centric series, with NBC Universal as a media partner on the production, the DMO providing the media buy.
Background: The campaign is funded by the Seattle Tourism Improvement Area (STIA), a dedicated marketing fund assessed from guests at 54 downtown Seattle hotels. Visit Seattle, which administers the STIA marketing programs, successfully explored uncharted DMO marketing initiatives since the advent of the STIA in 2011. The "2 Days in Seattle" campaign was the first by a DMO to curate the content of visiting social media influencers as content for a proprietary destination web site. Visit Seattle also launched a Seattle eCookbook and created its own Pandora music channel.
On the agenda at eTourism Labs in Philadelphia on March 14-15, more from DMOs and their agencies, presenting in-depth learnings from innovative case studies. See the details and register here.