We can't last a day without our mobiles, say respondents to a recent consumer report conducted by Bank of America.
No wonder marketers are willing to mightily shift their advertising budgets toward mobile. Check out these behavioral statistics and read more from "Four Advanced Tips For a Successful Mobile Marketing Campaign."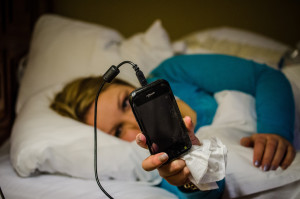 Approximately three-quarters are sleeping with — or next to — their mobile phones (71%).
Younger Millennials (ages 18-24) are most likely to sleep with their smartphone on the bed (34%).
In the morning, more than one-third reach for their mobile first thing (35%), before coffee (17%), or a partner (10%).
 A majority (89%) check their phone several times a day (89%), or constantly (36%).
Nearly half (44%) of Americans say they couldn't make it a day without their mobile device.
About one in 10 (11%) respondents say they would last less than an hour. Of those, more than half (52%) check their smartphone at least every 5 to 10 minutes.
Vacations? We're constantly connected and rarely go off the grid. Nearly four in 10 (38%) consumers say they never disconnect from their mobile phones. Only 7% of Americans say they unplug completely while on vacation.