We're continuing to showcase old friends (The Travel Vertical: 12/7/2016). At a "Bright, Shiny, New Object" session at eTourism Summit two and a half years ago, Utrip Founder and CEO Gilad Berenstein presented the startup's destination service to attendees. In February, the Seattle-based personalized trip planner powered by artificial intelligence announced $4 million investor funding to build out both its consumer and B2B platforms.
This explanation comes from the company's press release: "Utrip creates personalized day-by-day itineraries for travelers with recommendations on restaurants, parks, nightlife, museums, and more. The itinerary is personalized to best suit each traveler, such as foodies seeking to eat like a local with recommendations from the city's top chefs, or adventure lovers wanting to discover the city's thrills based on suggestions from local outdoor enthusiasts."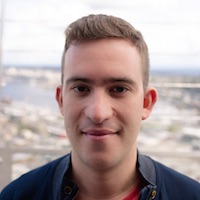 -> The Travel Vertical talked to Gilad to learn more about how the platform uses travelers' interests and budget to sort through millions of options, including must-see sites, activities, events, and restaurant recommendations to immediately deliver personalized itineraries using sophisticated algorithms that optimize itineraries for seasonality, hours of operation, and geography.
Q: What are the unique benefits Utrip brings to DMOs?
A: One of the main things is creating more delivery mechanism for DMOs to reach their travelers. We host a suite of features that introduced ways for membership-based DMOs to highlight their partners and to track consumer interactions.
Q: For example?
A: Three ways, really. First, member support. Utrip's data and analytics allows DMOs to see exactly which type of their members are being added to personalized itineraries by consumers using the app. Conversely, they can see where others of their members may be overlooked. This allows DMOs to support their partners and also to focus their ad dollars.
Second, content creation. DMOs tell us that keeping up with their social media presence is a huge draw on time and resources. Utrip can help significantly via its automated social media content creation tool. We input data points that prompts artificial intelligence to generate targeted suggestions, solving the research aspect of content creation within minutes. AI pulls tips from other sources: Facebook, Twitter, TripAdvisor, Yelp, for example.
Third, analytics. Utrip makes traveler data directly accessible to DMOs, breaking it down in slice and dice elements that cover psychographics, demographics, and behavioral preferences. Combined with geographical, that paints a very full picture that allows a DMO to better understand their customers. In addition to knowing what's trending where and with whom, DMOs get research in real time, a big step forward in replacing stale studies and data that can be a couple of years old. Also, within the hour we can identify and jump on a trend, sometimes known as "news hacking", for really deep engagement.
Q: Where can we see case studies of this kind of thing in action?
A: We're proud of our work with Dallas, an early adopter, which is showcased on our website at Utrip Pro. Monterey County (Calif.) also has a case study online. Nashville is one of our best partners for some deep learning results and we're working with San Francisco Travel, Visit Seattle, Palm Beach County, Team San Jose, even a wine country destination at Woodinville, Washington.
You can check out a handful of destination case studies at Utrip Pro here.