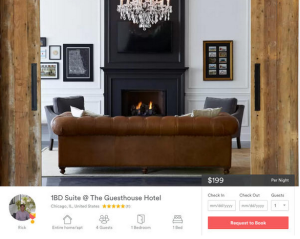 In a twist, boutique hotels are the latest category to join B&Bs and dorms as an Airbnb option. Definitions can  pretty get fuzzy when an un-hotel room is in a hotel and Airbnb behaves like an online travel agency.
According to an article published in Fast Company on Dec. 14, 2015, Airbnb's New York City manager, Wrede Petersmeyer, says it's OK. Rooms in hotels can be listed on the site as long as they're clearly portrayed as such.
For hotels, the appeal is strong. Airbnb charges hosts a 3 percent commission as opposed to an OTA commission to a hotel of up to 25 percent.
So, while examining the disruption between hotels and shared economy startups such as Airbnb, another story revolves around OTAs.
One week after the close of eTS15, travel booking site Expedia agreed to buy publicly traded vacation rental company HomeAway, an Airbnb competitor, for $3.9 billion.  The Expedia-HomeAway combination (which includes VRBO and more in-house global brands) would displace Booking.com as the world's largest lodging seller.
Following an anticipated first quarter 2016 regulatory approval, HomeAway says it will change its business model by add a booking fee for consumers. Currently, unlike Airbnb, HomeAway charges fees to hosts but not to guests.