---
PEOPLE PROFILE
---
Mark Romig, Senior Vice President and Chief Marketing Officer for New Orleans & Company, has been granted the Order of Civil Merit by His Majesty the King Felipe VI of Spain to honor "the civic virtues of officials at the service of the State, as well as the extraordinary services of Spanish and foreign citizens in the good of the Nation."
Romig assisted the City of New Orleans in the coordination of the royal visit during the city's Tricentennial in 2018, serving as president & CEO of the 2018 NOLA Foundation, the support organization for Tricentennial events.
Fun Fact:
Mark Romig is also the voice of the Saints as PA stadium announcer for games at the Caesars Superdome. He follows in the footsteps of his father, Jerry Romig, who did the job for 446 consecutive games over 44 years. "He never missed a home game," says Mark's mother Janice Romig, who accompanied her husband to all of them.
It's a family affair. Mark's sister Mary Beth is a spotter and brother Jay operates the clock and yardage/down controls in the booth. Watch them in action in "The Romig Family — The Heart of the Superdome" on the NFL Network.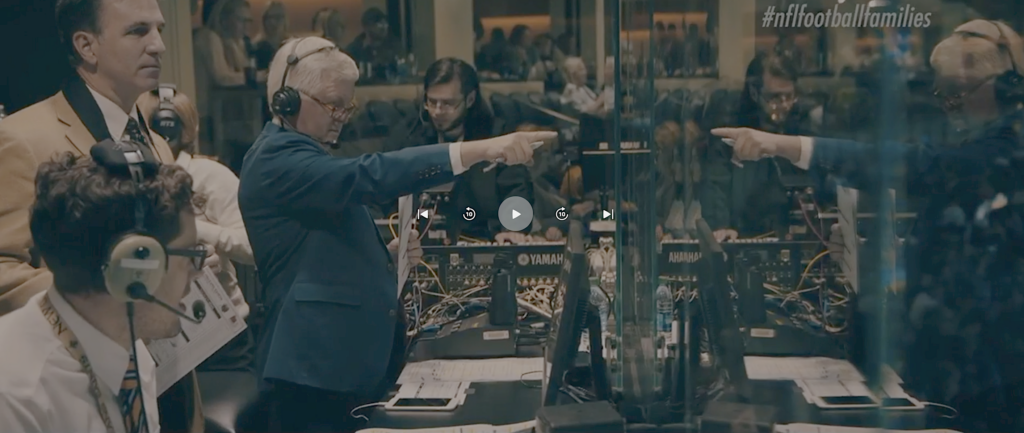 ---
Gov. Tim Walz has appointed Lauren Bennett McGinty as the new director of Explore Minnesota Tourism. For the last decade, Bennett McGinty worked in various roles with Minnesota nonprofits, most recently as executive director of the Minnesota Craft Brewers Guild. Bennett McGinty replaces former director John Edman, who retired in June after holding the job for more than two decades under four governors.
Jennifer Walker has accepted a new position as Chief Marketing Officer at Visit Dallas. She joins from AVB Marketing in Sacramento, Calif., and was previously Director of Brand Advertising at Visit California, VP of Marketing & Strategy at Visit Santa Barbara, and Director of Marketing Communications at Visit Austin.
Wausau/Central Wisconsin Convention & Visitors Bureau announced that Tim White has been selected as Executive Director. He previously owned the Wildwood Agency, a communication company that created brand stories for organizations.
In California, Rancho Cordova Travel & Tourism has promoted Marc Sapoznik from Executive Director to President & CEO. He joined the DMO in 2014 and serves on the board of the the local chamber of commerce, Gold Country Visitors Association and the California Travel Association.
Dawn Hall joins as Operations Director, Leena Riggs has been promoted to Director of Marketing & Partnerships, Ciara Parreñas Ursos has been hired as Marketing Coordinator and Maggie Thyken Huss as Director of Sales.
Melissa McClure has joined the team at Philadelphia Convention & Visitors Bureau as Global Tourism Sales Manager. She joins from Visit Fairfax where she served as sales manager for domestic and international leisure travel.
More new appointments and promotions from PHLCVB:
Jaime Martorana (left) is the new Communications Manager at Philadelphia Convention & Visitors Bureau. Prior to joining, she served as public relations manager at the standards development organization, ASTM International and as PR specialist at Eastern State Penitentiary Historic Site.
John Ryan (right) has been hired as Social Media Specialist at PHLCVB. Most recently, Ryan managed social media and developed digital communications for Philly311, the City of Philadelphia's customer service center for non-emergency inquiries.
Chelsea Ann Rovnan (below right) has joined PHLCVB team as Content Coordinator. She spent five years as a news writer for CBS-3 Eyewitness News.
Robin Bloom (left) has been promoted to Director of Content. Before joining the PHLCVB in 2017, Bloom served as producer and on-air host for WHYY for more than 20 years.
Kyle Huff (right)has been promoted to Content Manager. Prior to his promotion, he held the social media specialist position and before joining PHLCVB in 2018, Huff served as social media strategist and digital content curator for Honeygrow.
Beth Headley has joined Visit Estes Park in the new position of Sustainability & Policy Manager. She comes to the DMO from an event role with the Town of Estes Park.
Rachel Keeney is named as the new Executive Director at Top of West Virginia Convention & Visitors Bureau. She comes to the DMO after working in marketing and communications management at Carnegie Mellon University in Pittsburgh.
Libby Doss Lloyd is the newly appointed Director of Communications at Little Rock Convention & Visitors Bureau. She has been with the DMO since 2012.
Seth Eli Barlow steps up to Content Manager from his previous role as Content Creator, which he held since joining the bureau in 2019.
Stasha King Irby, a meetings professional, is a new addition to the team Destination Services Manager. She joins from Sonesta Hotels.
Brandon Darnell has been promoted to Director of Content at Visit Sacramento. A former editor and reporter, he joined the DMO in 2012 as Content Marketing Manager.
Boulder Convention & Visitors Bureau welcomes Lindsey Rohrbaugh as Sales Manager. She had held various sales roles at Visit Fort Collins over a period of nine years.
UK-based Toby Morris moves to Epsilon as Senior Business Development Director – Travel following six years as Sales Director for UK / Ireland / Netherlands at ADARA. Previously, he had been Sales Director – EMEA at Expedia.
---
---
Well, we couldn't resist and went and made a print magazine and directory for a digital conference. Click through and see people you know, plus some interesting content. Feedback welcome! Click here to look inside.
How eTourism Summit Was Born — An interview with Founder Jake Steinman
Looking Into a Cloudy Crystal Ball — Predictions from Richard Black, Sojern; Katie Cook, Zartico; Ed Harris, Discover Lancaster; Justin Bresler, Visit Denver; Jackie Saunders, National Harbor
Bright, Shiny, New Objects: Where Are They Now? — Out of the shark tank success stories from Cree Lawson, Arrivalist; Mo Parikh, Bandwango; Ben Hatala, Clicktivated; Dan Holowack, CrowdRiff; Darren Dunn, Zartico and newcomers: Jason Holic, Impactulator; Bob Gilbert, Tourism Alchemy; Chris Lukenbill, Shrpa; John Mark Ebenhardt, Stroll; Ian Ross, Placer.ai.

How Well Do You Know Montana? — a quiz by Jacquie Garcia, Social Media Specialist, Visit Montana


A Day in the Life of a Content Strategist — by Rachel Semik, Tempe Tourism Office, Arizona


Meet the Emerging Tourism Stars 2021: Jake Brown, Visit South Bend; Sabrina Dueñas, Visit Oakland; Cody Gray, Louisiana's Cajun Bayou Tourism; Kyle Johnson, Visit Indiana; Maria Skrzynski, Emily Zertuche, Visit Corpus Christi; Katie Utken, Hamilton County Tourism, IN


2021: Year of the Destination Refresh — Featuring Los Angeles Tourism & Convention Board, Visit Lauderdale, Visit Salt Lake, Visit Myrtle Beach, Greater Boston Convention & Visitors Bureau, Destination Augusta, Destination Vancouver


eTSY Award winners: Visit Lex, Visit Williamsburg, Discover South Carolina, South Carolina State Parks, Traverse City Tourism, Costa Rica Tourism Board, Taiwan Tourism Bureau, Meet AC (Atlantic City), Alabama Tourism Department, Visit Florida, Economic Development / Tourism Winnipeg, Visit Napa Valley, Discover Atlanta, Visit Savannah, Visit Tampa Bay


Sponsor Directory and Meet the Connect Travel Brands and more…