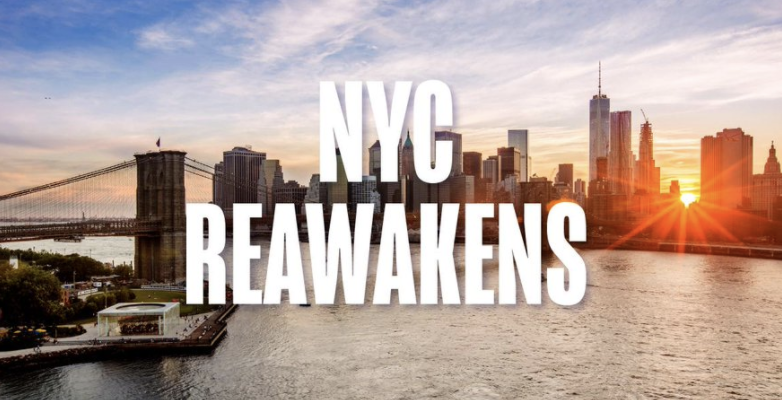 ---
It's the "largest campaign ever to promote tourism in New York City and it will remind people this is the place to be," Mayor Bill de Blasio said. "There is no place like it in the world."
Fred Dixon, president and CEO of NYC & Company, said the "major comprehensive marketing and advertising campaign—NYC Reawakens—will kick off in June with the message that "all five boroughs are open, vibrant and ready to safely welcome back visitors and business events." He urged New Yorkers to take part in a campaign to invite friends and family to visit via www.nycgo.com/wish-you-were-here.
Green shoots of recovery:
Since January, the hotel occupancy rate has increased 6 percentage points to 35% (STR)
Average daily room rates are up for the fifth straight month, +12% since December (STR)
On a recent Saturday, 4,100 people rode the ferry from lower Manhattan to the Statue of Liberty and Ellis Island, up from 2,500 three weeks earlier (Statue Cruises)
The Metropolitan Museum of Art has been averaging 7,000 daily visitors, up from 4,000 when it reopened last summer
"It's 2024 that we anticipate getting back to where we were," Dixon said. Referring to pre-pandemic metrics, 2019 reached 66.6 million total visitors (53.1 million domestic; 13.5 million international), before dropping to 22.3 million in 2020 (19.9 million domestic; 2.4 million international). Projections are for 2021 to reach 36.4 million visitors, and increase significantly to 57.2 million in 2022, followed by an estimated 64.7 million in 2023 and then 69.3 million and 72.4 million in 2024 and 2025.
The full hour-long press conference was a well choreographed show in itself. Live streamed globally to select media, it featured speakers including the mayor, DMO staff, city officials, chefs and restaurateurs, plus a snippet of a Broadway show performance, Girl From the North Country, all shared virtually via LinkedIn and the DMO's press Twitter link. Read the NYC & Company press release here.
---
Related: Best of the West DMO Roundup