This week's great lineup is anchored by Wednesday's Keynote Panel with presenters from Google, Pandora, Facebook, and Tripadvisor on Oct. 21 at 1 p.m. ET. Shaun Aukland, Laura Fernandez, Carly Houlahan, and Steve Paganelli are "Brainiacs Without the Bluster."
They'll be sharing personal insights and insiders' perspectives to suggest how 2021 will look.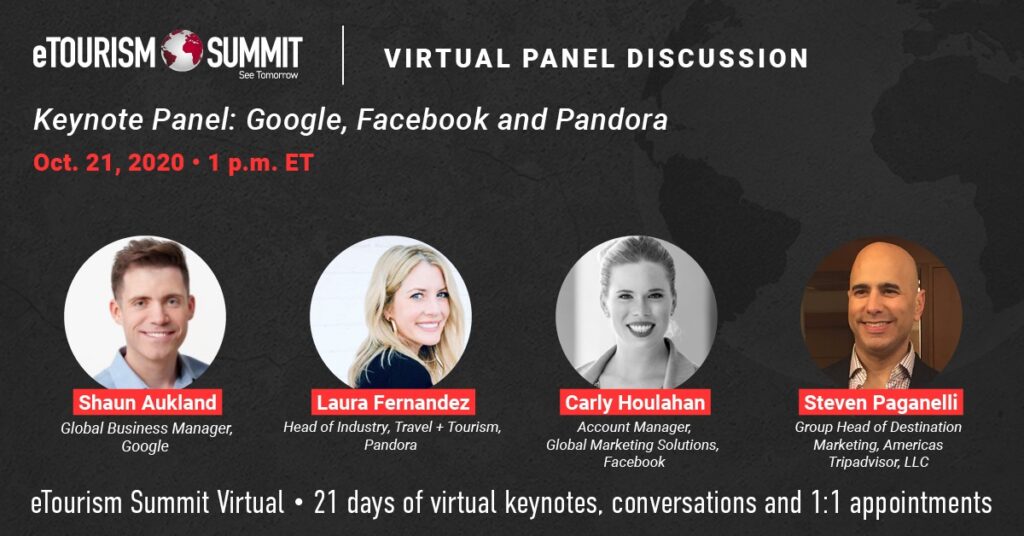 Scroll through the week for a closer look at the topics, panelists, and speakers for Oct. 19 – 23.
---
Related: Guest Post: Goodbye Third-Party Cookies—What It Means for Destinations
---
ICYMI: Flashback Fridays — Takeaways from Attendees
| Oct. 12-16, 2020 |
…tourism marketers should be (and many are) going even more digital in terms of how we're spending our marketing dollars. With resources more scarce, it's more important than ever to make our budgets work for us. That desire to make sure we get the most out of our budgets also has many marketers looking farther down the funnel. We need to do more than inspire. We need to convert and, even more, connect that conversion to our marketing efforts so the ROI is plain to see. — Jake Brown, Content Manager, Visit South Bend Mishawaka
It has been reassuring that we have all realized that our new tourism market is our community and areas close to home. The focus on community will help to enlighten residents about what there is to do in their hometown and it will make them better ambassadors for our destinations. — Linda Jeffries, Director of Sales, Visit Beaufort
I specifically appreciated the practical takeaways from the DMO Marketing Stack and "Do Pictures Really Paint 1,000 Words" discussions. Learning what has worked from other leaders in the tourism space is incredibly helpful right now in a time when internal resources are spread thin. — Laura Soard, Marketing Director, Steamboat Springs Chamber, CO
Actionable Takeaways:
Monday | Day 8: Expedia
Examine funnel anew; look at core segments: Art community, sports community families.
Use native ads (+18% lift in purchase intent) and co-op ads to stretch dollars
Tuesday | Day 9: DMO Panel
Research says: Earning trust—with full disclosure—is singularly important
Boring but necessary: Stressing safety, honesty, friendliness
Suggest it's more about planning than demanding
Shine a light on your outdoor assets, as in "For the Love of Tennessee"
Wednesday | Day 10: NYC & Company
Coalition & Community built "ALL IN NEW YORK" campaign
Rely on local leadership for braintrust, steering committee (we love where we live)
Grass roots recovery looks inward at all five boroughs
Profiles in the community = people stories
UGC and small businesses played a big role
Thursday | Day 11: Social Media
Enhanced functionality of Stories plays a "big, big" role in Facebook ecosystem and beyond
TikTok is not a "must have" for DMOs
Ask influencers to piggyback your messaging on their TikTok (and other) channels
Pandemic has reinforced the homegrown maker trend in social conversations
LinkedIn sees growing trend of "blending" personal & business
Friday | Day 12: Visual Messaging
Be relevant, be sensitive, be careful, be genuine to your core mission
Everything has changed but DMOs have an important communications job to do.
Do your research or work with an expert vendor because details matter: choice of image, color, placement, etc. make a marked difference
Need visuals? UGC contests are 'micro-campaign'— engaging and super cheap