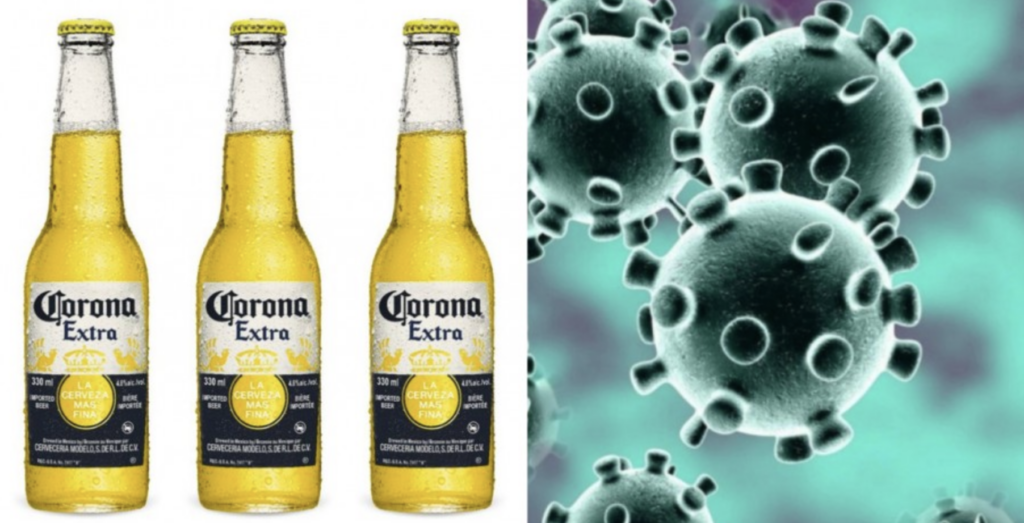 Corona Beer is certainly having a very odd marketing moment, but surely no one believes the coronavirus comes from drinking Corona beer, right? Wrong.
"Google Trends calculated that 57% of the people that searched one of those terms searched for "beer virus," and the remaining 43% searched for "corona beer virus." States like Hawaii, New Mexico and Kansas searched "beer virus" more, whereas states like South Carolina, Colorado and Arizona searched "corona beer virus" more." – USA Today.
"In the end, of course, there is no connection between the beer and the virus. A coronavirus is named for the 'crown like spikes' on its surface, according to the Centers for Disease Control and Prevention. Common cold viruses are coronaviruses." – Barron's.
---
Note: Those truly fascinated by surveys, ad words and Pew Research Center findings around Corona beer and the virus should refer to this Barron's article.
---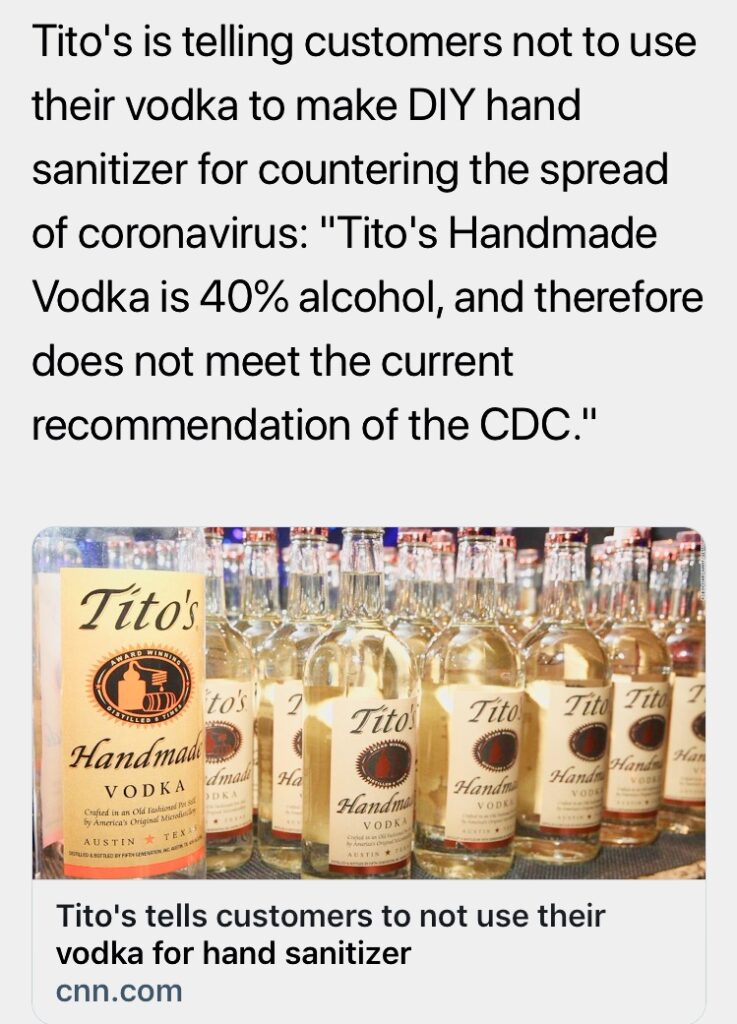 Not to be left out of the alcohol conversation, Tito's Vodka issued a Twitter communication (the brand earns points for high-jacking the news cycle) to debunk the homemade hand sanitizer rumor mill. It does leave marketers wondering who may have started such a rumor.
FAQ, EPA, FDA
Both Clorox and Lysol have set up FAQ pages about coronavirus, in that these products meet EPA standards to claim their products are effective against certain emerging viruses. However, the makers of hand sanitizer Purell were reprimanded by the FDA in January for making unsubstantiated claims that its products prevent the spread of viruses, according to The Hill.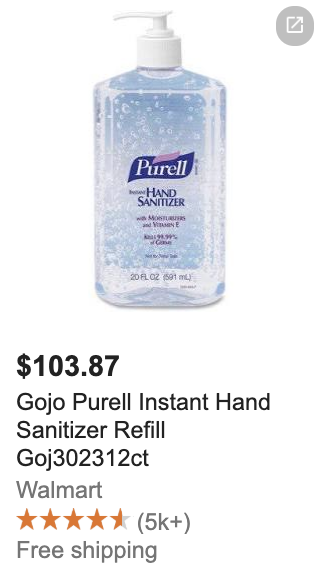 More confusing still, "The FDA, which regulates hand sanitizer, and the EPA, which regulates surface disinfectants, have different rules. The EPA permits manufacturers to answer questions about efficacy against viruses." – Purell website.
At a $100.00 markup, Walmart is sold out online.
---
---
Related: Why You Shouldn't Let Coronavirus Stop You From Traveling by Patrick Clarke, senior writer, appeared in TravelPulse.
---


Beware: Misinformation is Rampant
"Just as the number of people and countries affected by this new virus have spread, so have conspiracy theories and unfounded claims about it. Already social media sites, including Facebook, Twitter, YouTube, and TikTok, have seen a number of false and misleading posts about 2019-nCoV, such as:
"Oregano Oil Proves Effective Against Coronavirus," an unfounded claim
a hoax stating that the US government had created and patented a vaccine for coronavirus years ago, shared with nearly 5,000 Facebook users
a false claim that "coronavirus is a human-made virus in the laboratory"
sales of unproven "nonmedical immune boosters" to help people ward off 2019-nCoV
unfounded recommendations to prevent infection by taking vitamin C and avoiding spicy foods
a video with useless advice about preventing 2019-nCoV by modifying your diet (for example, by avoiding cold drinks, milkshakes, or ice cream).
Facebook is trying to fact-check postings, label those that are clearly false, and reduce their ranking so they are less prominently displayed. Twitter, YouTube, and TikTok have also taken steps to limit or label misinformation. But it's nearly impossible to catch them all, especially since some are in private social media groups and are harder to find."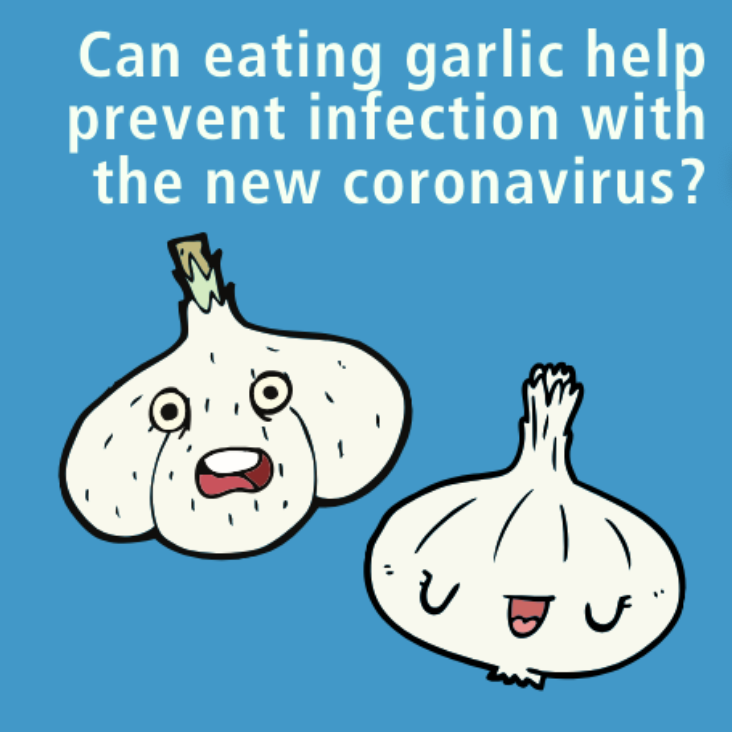 The World Health Organization, a reliable source, has responded by publishing a myth-buster page.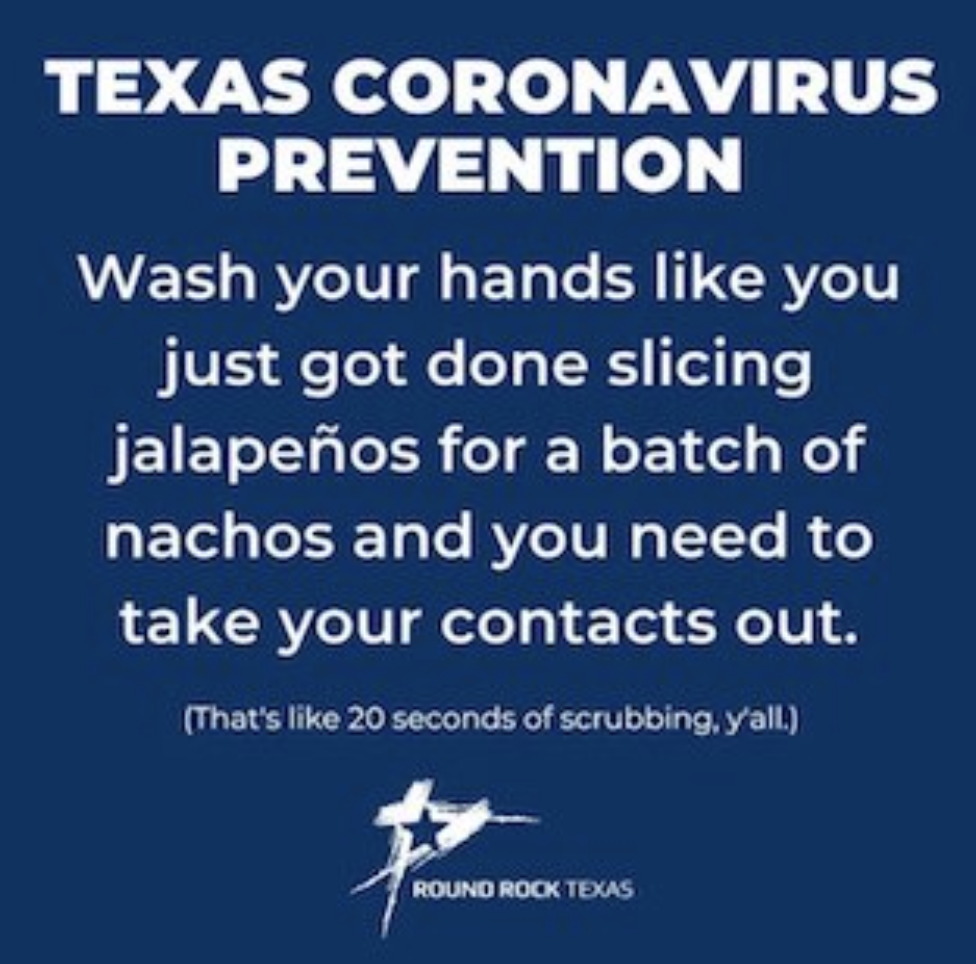 And someone signing off as Round Rock, Texas, an unreliable but humorous source, has responded by publishing a post on hand-washing technique.