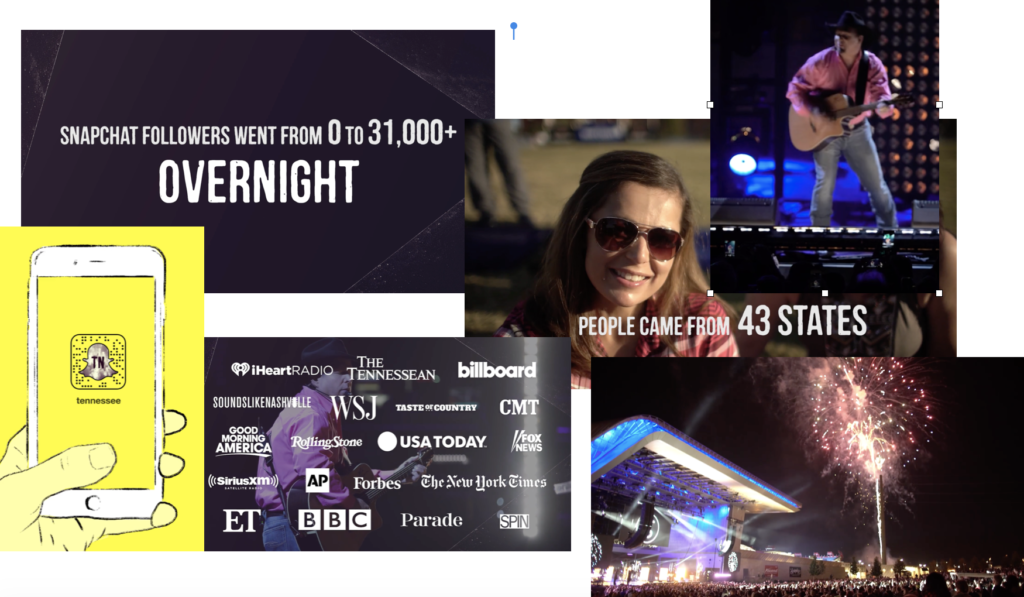 Visit Tennessee + Snapchat + Garth Brooks + Free Concert + Exclusive Ticket Site = Genius Solution to "When the State of Tennessee launched its own Snapchat channel to engage Millennials, we needed a reason for them to want to follow us…"
Here's the back story from Brian Wagner, Assistant Commissioner Marketing at Tennessee Department of Tourist Development.
Do watch this excellent clip (copyright protected) describing the most awesome Snapchat promotion we've ever seen. Enjoy!
Thank you to Brian for sharing this in-depth Q&A for readers of The Travel Vertical:
How was the idea of approaching Country Music Legend Garth Brooks for this special occasion hatched?
We got lucky…we were looking for an artist to help us launch our snapchat channel and he was approaching his big seven diamond milestone while also wanting to reach a younger demographic. Our brand is Soundtrack of America. Made in Tennessee and all seven of his albums were made in Tennessee…just a great fit and good timing.
How long was the planning process from ideation to event?
Our agency, VML presented us with the idea mid-July of last year and had already had at least one conversation with Garth's camp.
What unexpected tricky logistics arose?
Ticketing in general was a bit tricky, but we have a lot of experience in this area thanks to the nine years I spent at Ryman Auditorium where I was over the box office in addition to being the Marketing and Special Projects Manager, and Commissioner Kevin Triplett who spent just as long at Bristol Motor Speedway.
Snapchat did not let you link out of the site directly at the time, so we asked users to screen shot the url and then they had to type it into their browser to get tickets. And, we really didn't want the free tickets to be resold. So, we put it out there that people could only get two and they were will call only. Just before the show we ended up sending everyone their tickets to their mobile phones and got everyone in without much of a wait. We had people from 41 states and six countries, and a big watch party sponsored by Amazon, in the park adjacent to Ascend Amphitheater.
 Did you anticipate the $4.2m in free media news coverage? The corporate sponsorships?
Earned media is a part of everything we do so with Garth's involvement, not surprised by the coverage. Going into it I didn't realize how truly amazing Garth Brooks is and how well he takes care of his partners. Between launching the Snapchat channel Oct. 4 with a press conference with Garth and Governor Bill Haslam, and the event at Ascend Oct. 24, Garth released his new single to radio and announced he partnership with Fritos at Cowboy Stadium in Dallas.
He invited me to do the radio round robin with him on the field where 23 of the biggest country stations and syndicated radio shows were gathered. He interviewed first and then I came along behind to talk about our event and the new Snapchat channel. Garth and the Frito Lay people were so amazing during that experience that we invited them to be a part of our event and we had huge stands of Frito bags in the park with his logo on them and single download free for anyone in attendance. The Amazon partnership for the big screens at the park also came through Garth. Our agency helped bring in Budweiser for a promotion on Lower Broadway at the honky-tonks with bands playing Garth songs and doing ticket giveaways the day of the big show.
 Retention rate among the 31K new Snapchat audiences?
It's my understanding that Snapchat does not provide numbers of followers, only numbers of views. The Garth campaign resulted in over 8MM views. Since then we're probably north of 12MM.
What details can you share about budget, incl. digital spend?
Media spend was $300K and included:
Nashville Billboards congratulating Garth
Promoted FB Posts
Integrated partnerships with radio stations in 7 cities
Targeted Snap Ads
Print Ad in National Publication
Out of Home (eye-level billboards)
Influencer outreach
Paid Search
What types of Snapchat postings will TN be offering its followers in the future? Also, will this channel be managed by agency or in-house?
Below is breakdown of stories we've done across the state on Snapchat (and recently added Instagram as well…) and number of views each has received. Each showcases a different attraction/destination across the state or features an up and coming TN based artist as part of our "spotlight series".
We do have plans for more tent pole events, like the Garth show in that fans will have to follow Tennessee to get tickets but likely not as big, in the near future. Our plan is to continue to amass followers and provide exclusive Made in Tennessee content on a regular basis designed to inspire visitation.
Stories total views: 4,030,949
Stories total screenshots: 1,495