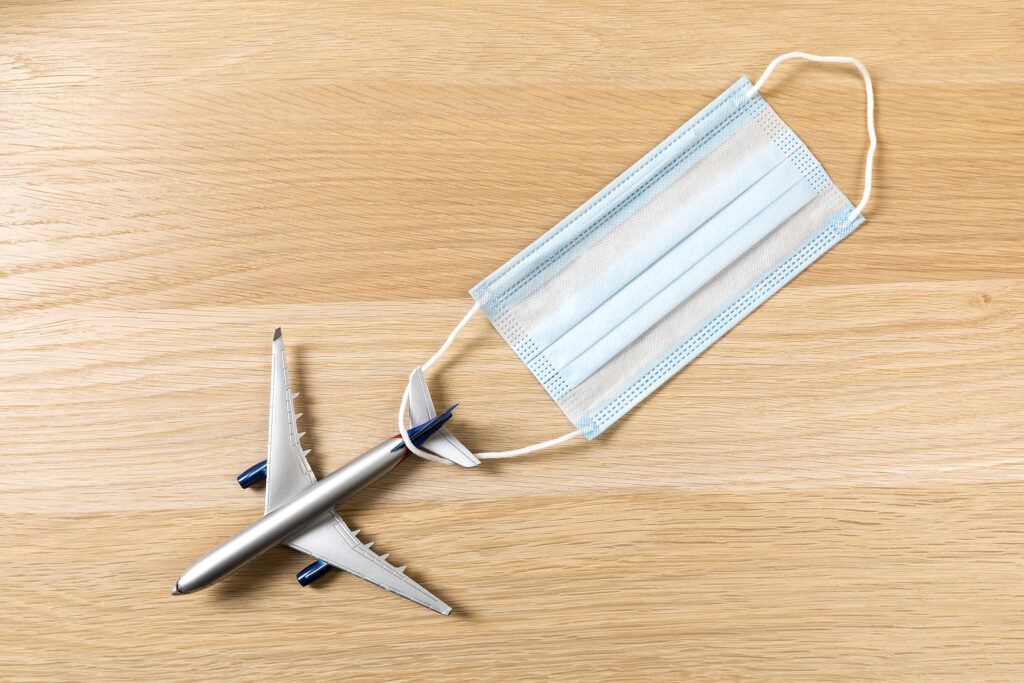 Well, that was rather abrupt…as in mid-flight for some.
Within hours of a federal judge in Florida striking down the mask mandate for airplanes, airports, and public transport on Monday, April 18, there were immediate reactions and plenty of confused responses. The CDC had just extended the mandate for 15 days through May 3 due to a seven-day average of nearly 35,000 new infections, a 36% increase over the past two weeks, according to data from the CDC.
Bottom line: The CDC mandate is no longer in effect and the TSA will not enforce it at this time, a Biden administration official said. The White House is reviewing the court's ruling and the Justice Department will decide whether it will appeal. The CDC continues to recommend masks on public transit.
U.S. Travel Association reacted to the federal mask mandate action: Executive Vice President of Public Affairs and Policy Tori Emerson Barnes issued the following statement on the Biden administration's announcement that the federal mask mandate will not be enforced on public transportation and in transportation hubs at this time:
"The current decision to halt enforcement of the federal mask mandate effectively returns the choice of mask usage on planes and other forms of public transportation to travelers and travel industry workers, a further step toward endemic management of Covid. We also continue to urge the administration to immediately end pre-departure testing for vaccinated inbound international passengers, which discourages travel and provides limited public health benefits."
Mixed Messages
United, Delta, Southwest, and America — the nation's four largest airlines — dropped their mask mandate requirements for domestic flights. JetBlue, Alaska, Spirit, and Frontier followed suit, as did Amtrak.
On the ground, several public transit agencies, including New York, Boston, and Chicago, are keeping their mandates in place. The Washington, D.C. Metro and Philadelphia mass transit systems are transitioning to a mask optional policy. And in San Francisco, two interconnected mass transit systems, SFMTA (masks) and BART (no masks), came out with two different policies within hours of one another. Uber and Lyft have lifted the mask requirement for drivers and passengers. Ditto at Disney.
On Monday, Philadelphia reinstated their indoor mask mandate in response to rising case numbers, the first major U.S. city to do so.
Easter / Passover Weekend Traffic
The TSA throughput data indicates that we're nearly back to 2019 levels at the nation's airports.

As for road trips, Arrivalist announced that Friday and Saturday holiday travelers set a four-year record high over the Easter/Passover weekend, exceeding even pre-pandemic 2019 numbers.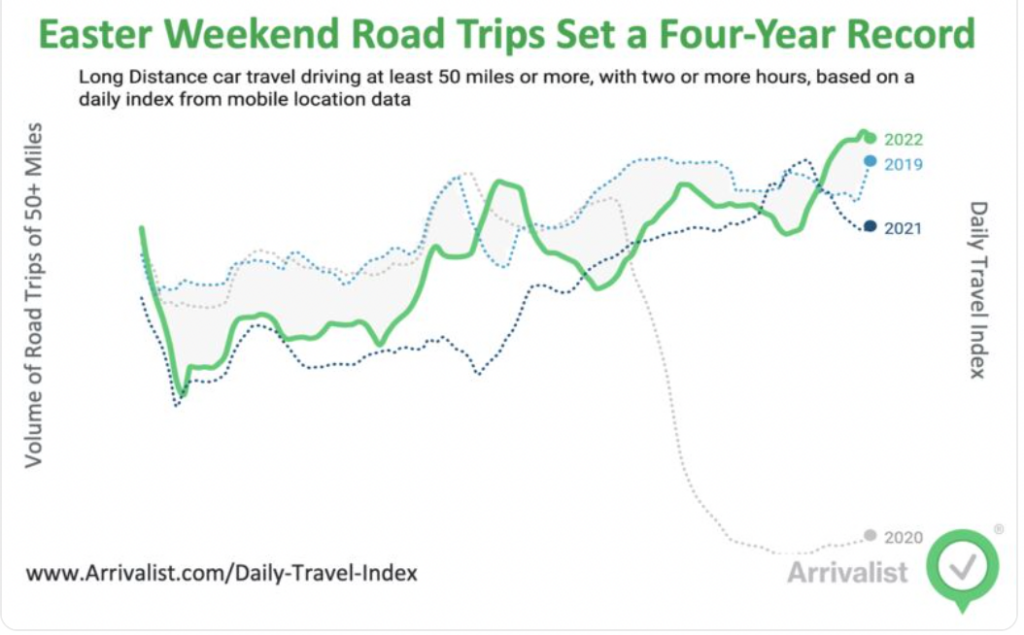 Sticker Shock
Prices climbed even faster than traveler numbers, with U.S. airfares reaching pre-pandemic levels. As leisure demand rises, but flights are canceled due to overwhelming staffing shortages, summer vacationers can expect chaos and prices that creep even higher still. Coupled with super-high prices at the pump and a rental car supply chain crisis, there's no cheap escape.
"Flying in the U.S. will be expensive this summer. Passenger numbers are rapidly approaching pre-pandemic levels but airlines, for a variety of reasons, cannot keep pace adding back flights. The average U.S. domestic published airfare on the three largest carriers — American Airlines, Delta Air Lines, and United Airlines — was $384 during the week of April 11, according to a weekly survey by analysts at Cowen & Co. That was up nearly 57% compared to the same period last year when fares were still depressed by the pandemic, and up 3% compared to 2019 on a real basis." — Airline Weekly.
CNN looks at the reasons experts predict a summer of travel chaos, a complicated mess even before the latest legislative entanglement.