We've all had to accept "pay to play" and it's not about to end. As each platform matures, so do we. DigMe is a new two-day event hand-crafted by the experts from eTourism Summit.
Designed as a dedicated forward-thinking travel industry digital media conference, DigMe was successfully launched by eTourism Summit in NYC in 2015. This April, DigMe2016 is the place to come to grips with a potentially bewildering subset of sophisticated analytics, CRM, data tools, ROI services and a slew of digital media tools popping up in the travel B2B marketplace.
There are 5 key differences in content between eTourism Summit and DigMe. That's important, because nobody wants to hear the same information twice.
A focus on new forms of paid digital media content designed for tourism marketers
More content dedicated to technical aspects of data ROI in smart media buying
New campaign take away ideas that work for others
Deep dive into UX testing
Facebook certification and interactive genius bar
And, there's a fourth reason: DigMe is dedicated to designing content, accessing connections and generating innovative ideas that will help attendees advance in their careers. Going forward, every travel organization leader will need an understanding of digital marketing. Investing in digital media training is a necessity that will help position you and your organization at the forefront of the travel industry.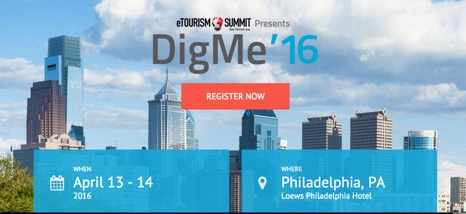 The next DigMe takes place in Philadelphia on April 13-14, 2016. Brand new sessions include UX testing, advanced content marketing and an immersive, full-day Facebook certification workshop and an interactive Facebook genius bar.