Wearable tech enters the Covid-19 solution scene in the form of a health monitor called the BioButton™ from a medical device company, BioIntelliSense.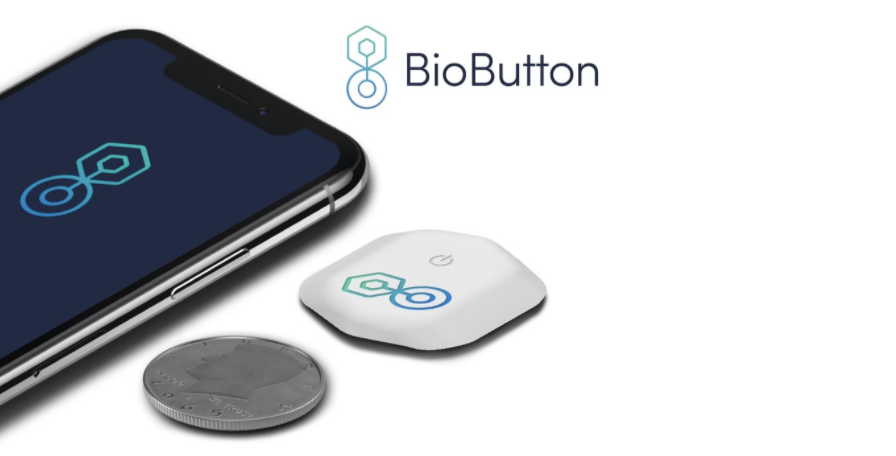 While BioButton™ was designed for medical use by frontline workers, what about mass market use? Could countries impose a mandate for visitors to fix such a device to the body as a possible high-tech solution to contain the spread of Covid-19 and restart tourism economies?  
About the size of a half dollar and worn on the chest, the disposable device monitors key health metrics such as temperature and respiratory and heart rate for a period of 90 days. Combined with other metrics for a region, it can generate clearance in the form of a green pass for healthy wearers. It can also be used for contact tracing because it monitors which other BioButton wearers a person comes into proximity with and for how long, but without actually tracking one's location.
Travel Weekly reports, "Hong Kong and South Korea issue wristbands that track an arrival's movements to ensure quarantine compliance. Hawaii is also considering GPS technology to track movements within resort areas. That plan is still in its early stages.
If privacy issues are a concern, they appear to take a backseat to potential economic benefits among tourism officials. Roger Dow, president and CEO of the U.S. Travel Association, wants to see it adopted…"
"Travel is the front door to economic development," he said. "If we don't get this thing moving again with [wearable] technologies, this economy and country is going to be in very dire straits," said Dow.
Take a look at the device's website:
The BioButton™ system is a scalable and cost-effective solution for COVID-19 symptom monitoring at school, home and work:
FDA-cleared medical-grade wearable for continuous vital sign monitoring for up to 90-days
Discreet, coin-sized, single-use disposable design for an effortless user experience
Continuous temperature, respiratory rate and heart rate at rest measurements
BioMobile™ daily health screening surveys based on CDC guidelines
Efficient, non-location based contact tracing capability and reporting
Health data protection through strict privacy and security safeguards
Read more in the company's press release.