PEOPLE

Travel industry leaders Joe D'Alessandro, president and CEO of the San Francisco Travel Association, and Ernest Wooden Jr., former president and CEO of the Los Angeles Tourism & Convention Board, will be honored as the 2020 inductees into the U.S. Travel Association Hall of Leaders. With these two inductions, 102 travel industry names have been added to the U.S. Travel Hall of Leaders since it was established in 1969. Read more here.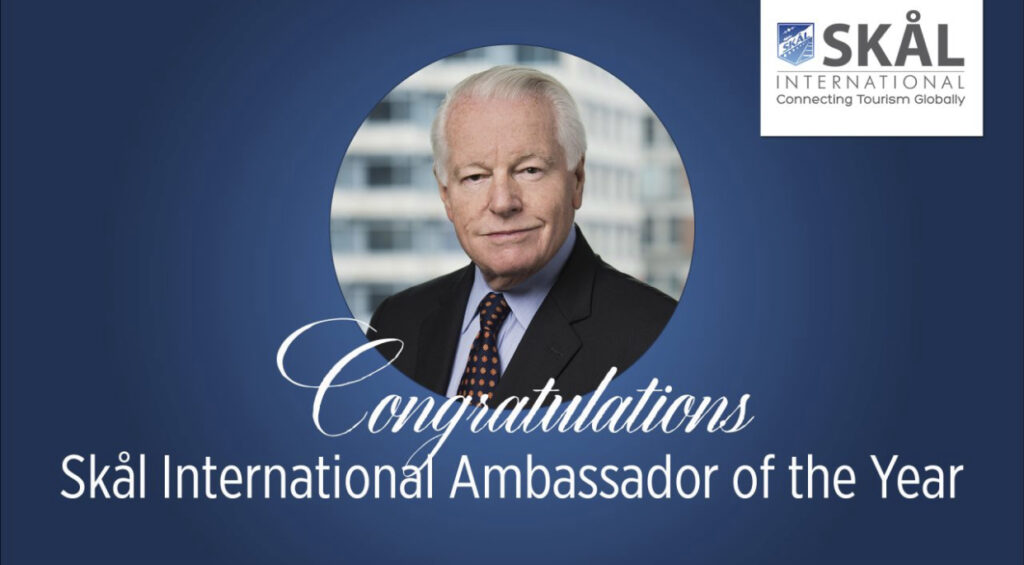 Roger Dow, president and CEO of U.S. Travel Association has been named Skål International "Ambassador of the Year" for his contributions to the global travel and tourism group founded in 1934.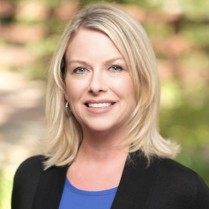 More people news from California: Monterey County Convention & Visitors Bureau has hired Teresa Savage as the new VP-Business Development. She joins following seven years as VP-Sales at Visit Napa Valley.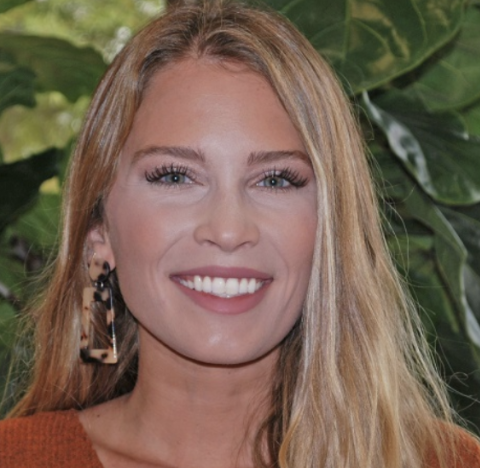 In Mississippi, Ridgeland Tourism Commission welcomes Kaitlan Burkhalter as visitor marketing associate.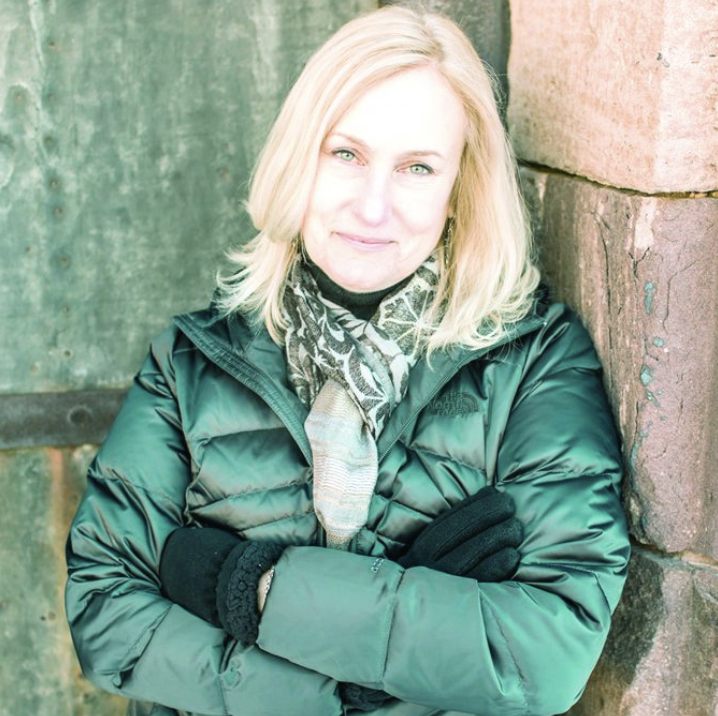 Susan Estler, executive director of Travel Marquette, has been appointed to the Michigan Travel Commission by Gov. Gretchen Whitmer. She brings over 20 years of experience, working in previous similar roles in Florida and Pennsylvania prior to her current role since early 2018.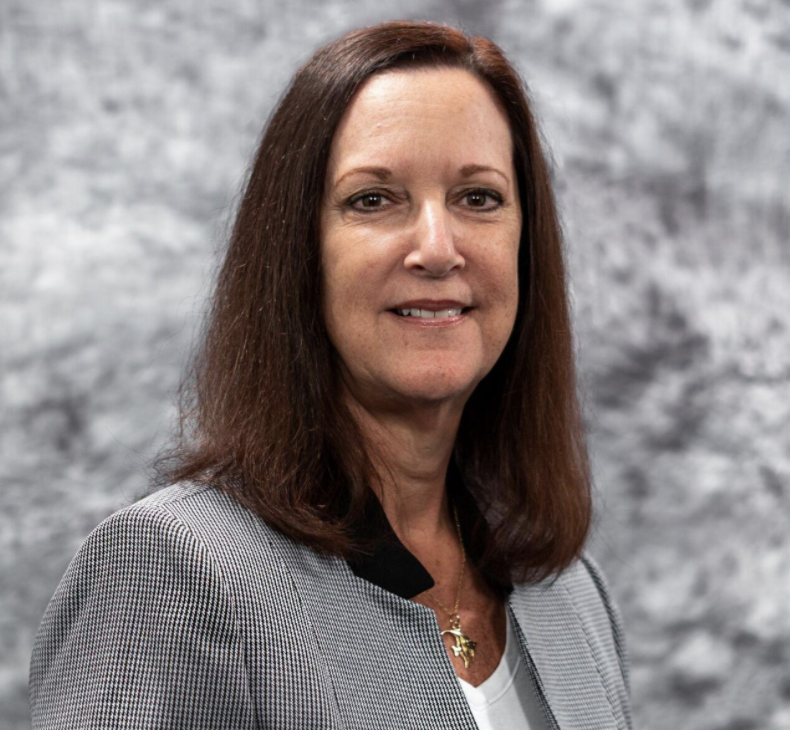 Punta Gorda/Englewood Beach Visitor & Convention Bureau announces Maureen Morgenthien has been appointed director of marketing. She has served as deputy director for sales & marketing at Emerald Coast Convention & Visitors Bureau and director of leisure sales & marketing with Greater Fort Lauderdale Convention & Visitors Bureau. Morgenthien replaces Chip Futch, who left the organization in July.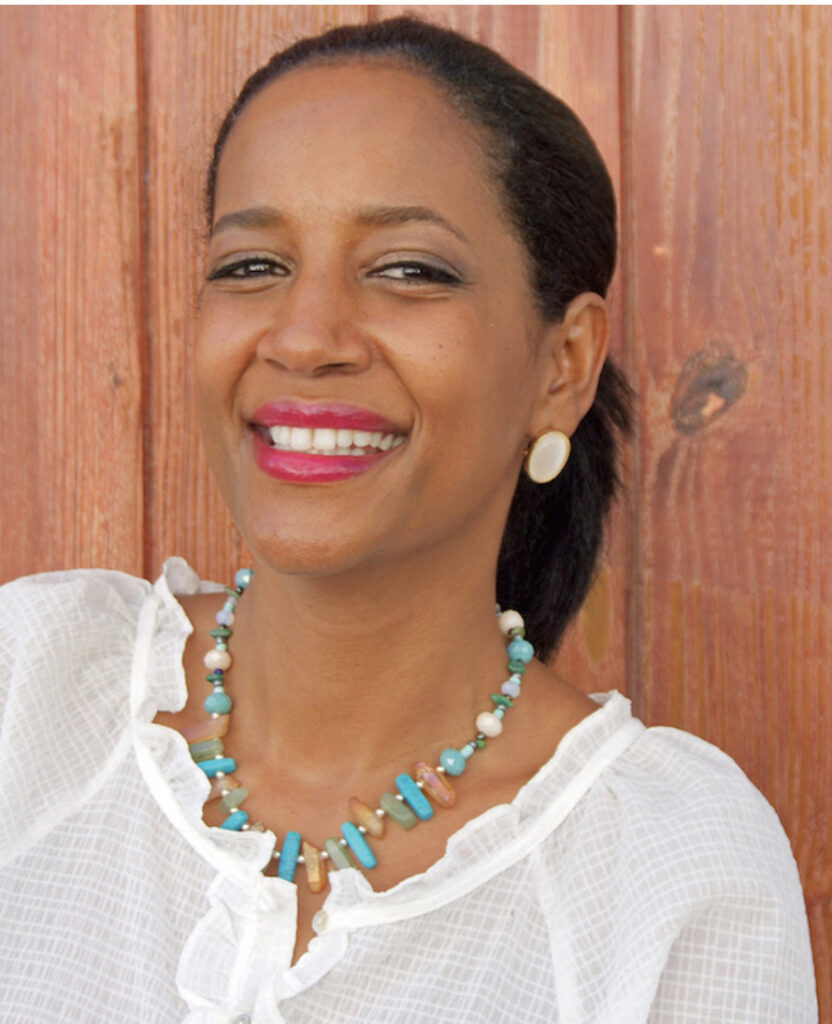 Lebawit "Lily" Girma has been hired by travel industry news site Skift as its global tourism reporter. Forbes magazine featured her this year as one of 15 Black Travel Writers to Read Now.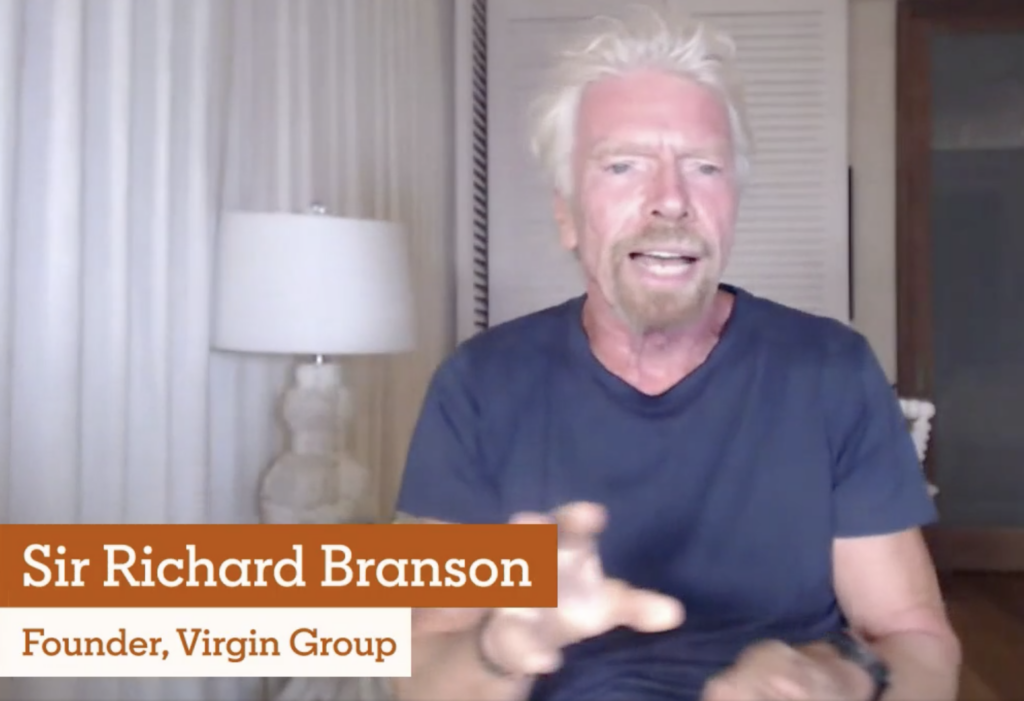 Sir Richard Branson has not built an empire by playing by the rules. Virgin Group business sectors are focused on travel and transportation, leisure and entertainment, health and wellness. For the launch of "Scarlet Lady," a splashy $2.55 billion inaugural Virgin Voyages cruise ship, things haven't gone to plan. Hear from a man who knows a thing or two about navigating success and failure, pivots, and the opportunities work-from-home can surface. Sir Richard shares thoughts on surprises arising from Covid-19 and what may lie ahead for business travel in conversation with LinkedIn News.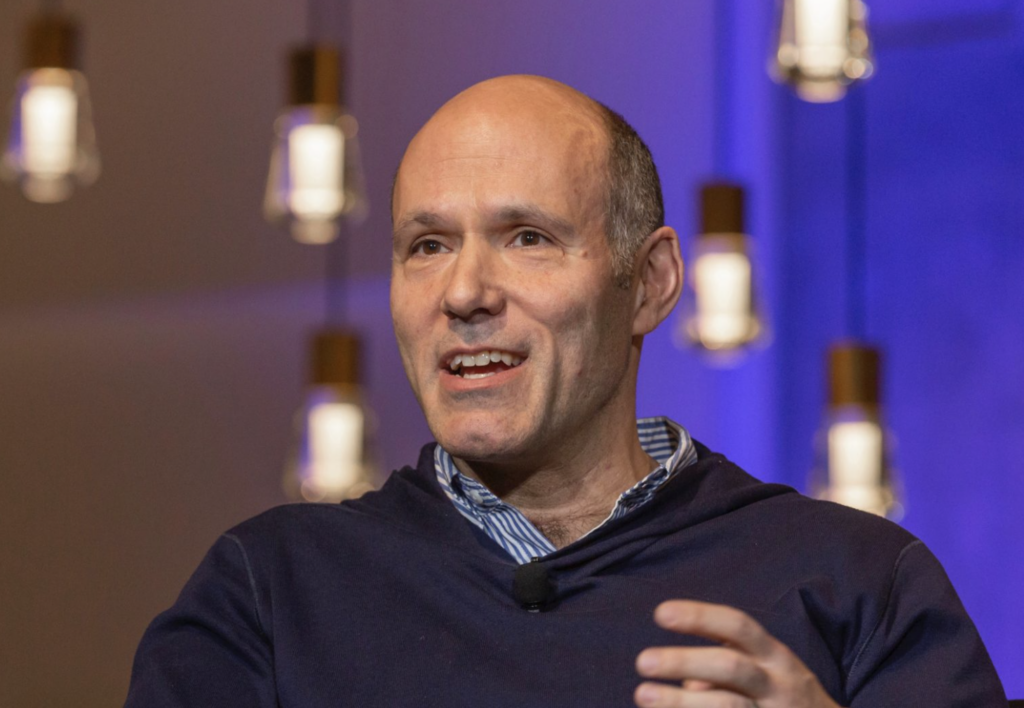 Travel industry leaders react as the U.S. Department of Justice and State Attorneys General have filed an antitrust suit against Google, claiming it has abused its dominant position in search and advertising to keep competition down.
"I'm very pleased to see the government finally taking some action. Hopefully, it will create a fair marketplace for us, which is all we want. We have no axe to grind against Google, except that we don't think the marketplace is equitable." — Peter M. Kern, Vice Chairman & CEO, Expedia Group, Inc. Read more from Phocuswire.
PLACES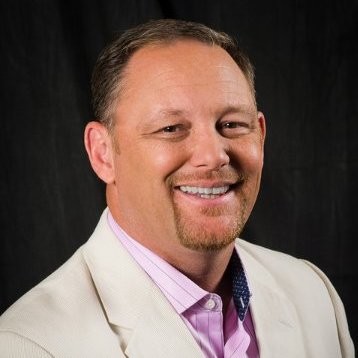 Kyle Edmiston, president and CEO of Lake Charles/Southwest Louisiana Convention and Visitors Bureau, emphasized the importance of tourism in his region, indicating that the hospitality industry will play a massive role in the recovery following impacts of hurricanes Laura and Delta. The Beaumont Enterprise reports, "Edmiston suspects it will be eight months before the area can begin reasonably accommodating visitors and another eight months before Lake Charles starts to resemble the destination that guests are used to."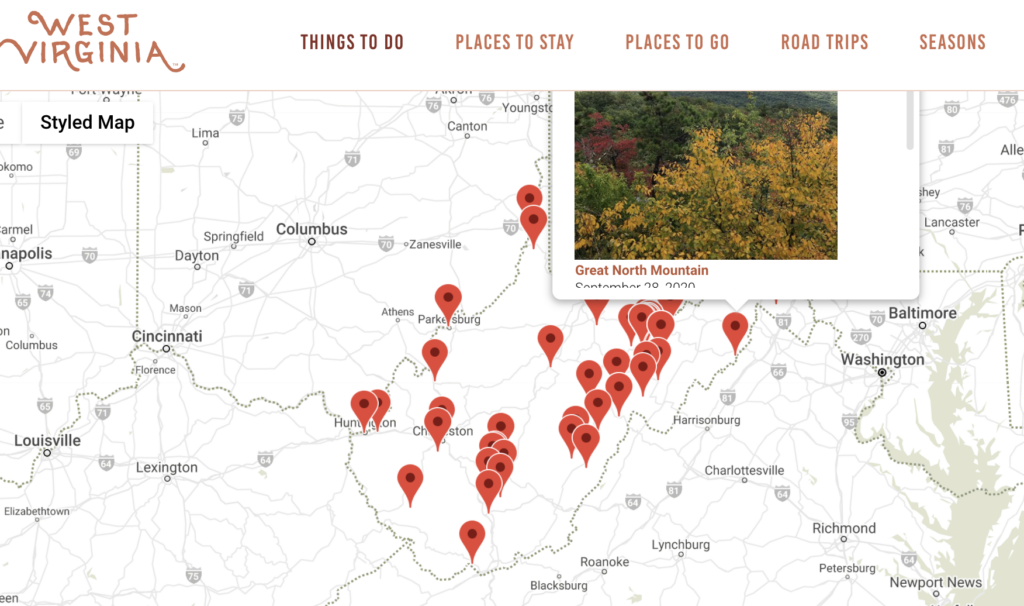 Amrita Gurney says, "I *love* this interactive leaf-peeping map that the team at West Virginia Tourism put together with the CrowdRiff API. It showcases all the natural beauty in the state especially this time of year. More folks are spending time in their cars on day trips and road trips this year; what a great way to use visuals to guide people to different spots around the state."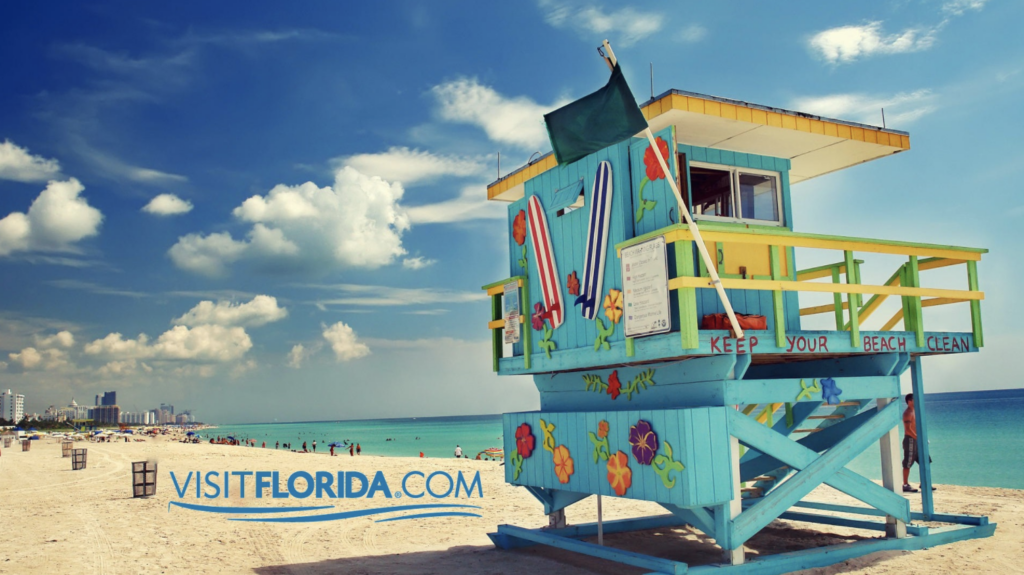 Colorful Visit Florida ads are now running in targeted East Coast markets, with the agency committed to "aggressive" marketing. Last week, President and CEO Dana Young told a virtual meeting of the Florida Chamber Foundation that the second phase of a roughly $13 million marketing effort is underway. The first phase was aimed at an in-state residents. One local NPR public radio station, WUSF, notes that an important audience is missing: international. "We need a number of pieces that are missing from our tourism puzzle to fall back in place. Number one, international visitation," Visit Tampa Bay President and CEO Santiago Corrada says.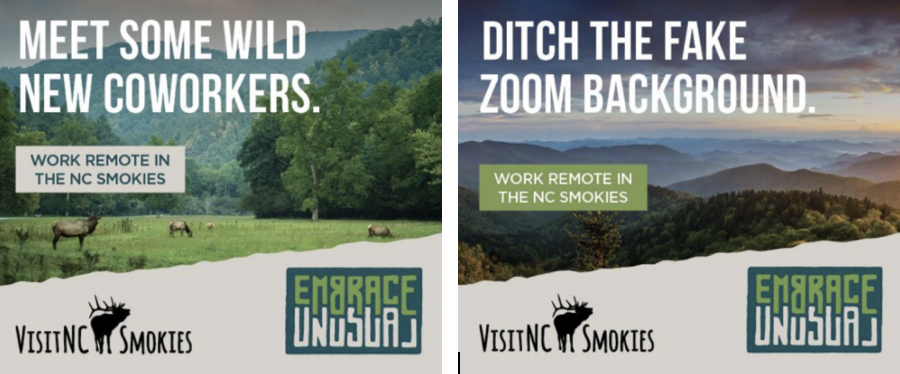 They're rolling with the Covid times at Haywood Tourism Development Authority, North Carolina. A new ad campaign, "Embrace Unusual" was inspired by travelers informing staff at the visitors center in the Smokies, "I am here working remotely for the week." Marketing Director Ashley Rice told The Mountaineer.com that "workcations" have meant a busier than ever summer for the destination. "Taking life by the antlers" creativity caught the attention of Visit NC and Haywood County landed a maximum grant of $100,000 through a Covid-related state initiative for tourism destinations. Marketing efforts between October and December include ads in Southern Living, Outside Magazine, Instagram and AccuWeather.com.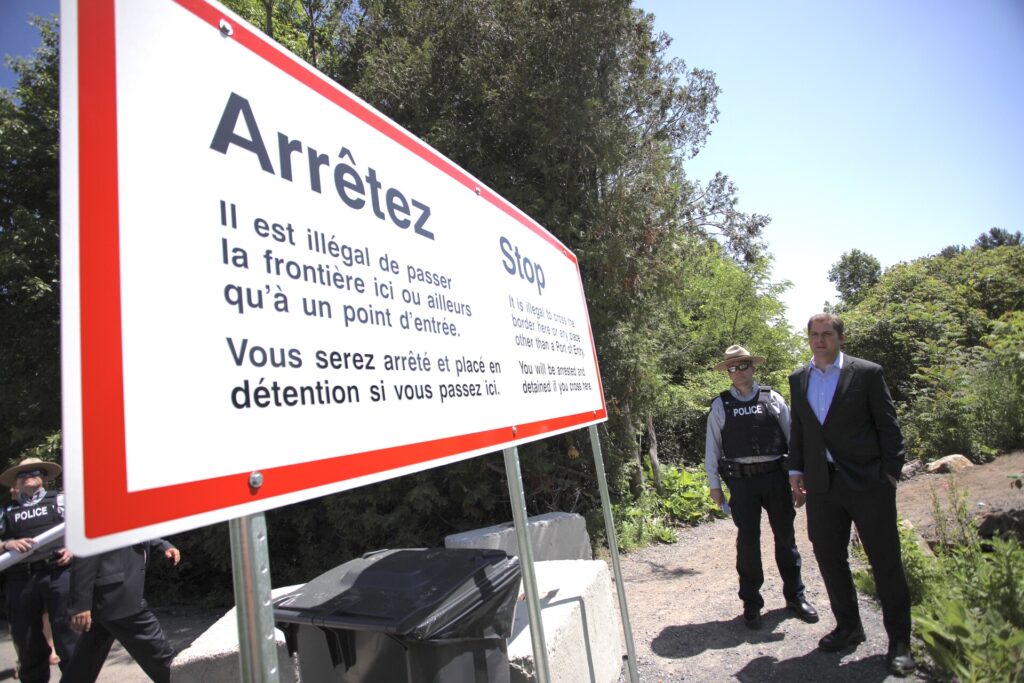 The US-Canada border will remain closed. Canada's public safety minister, tweeted, "We are extending non-essential travel restrictions with the United States until Nov. 21, 2020. Our decisions will continue to be based on the best public health advice available to keep Canadians safe." NPR reports on Americans gaining entry via the "Alaska loophole." Spotted at a Banff attraction in Alberta, a Kentucky man accused of twice breaking Canada's Quarantine Act could be forced to pay a $569,000 fine, spend up to six months in prison, or both. Meantime, the pandemic is expected to hit businesses hard for the lack of Canadian snowbirds flocking to the U.S. sunbelt this winter. The Arizona Chamber of Commerce said Canadian visitors normally spend more than a billion dollars in Arizona every year.
San Francisco's new campaign was shared with partners of San Francisco Travel Association. "Our Gate is Open," taps local celebrities to remind people of nearby open spaces. There are images of outdoor activities in sparsely populated cityscapes and people carefully wearing masks, while Francis Ford Coppola and San Francisco sports heroes make personal appeals to Bay Area visitors.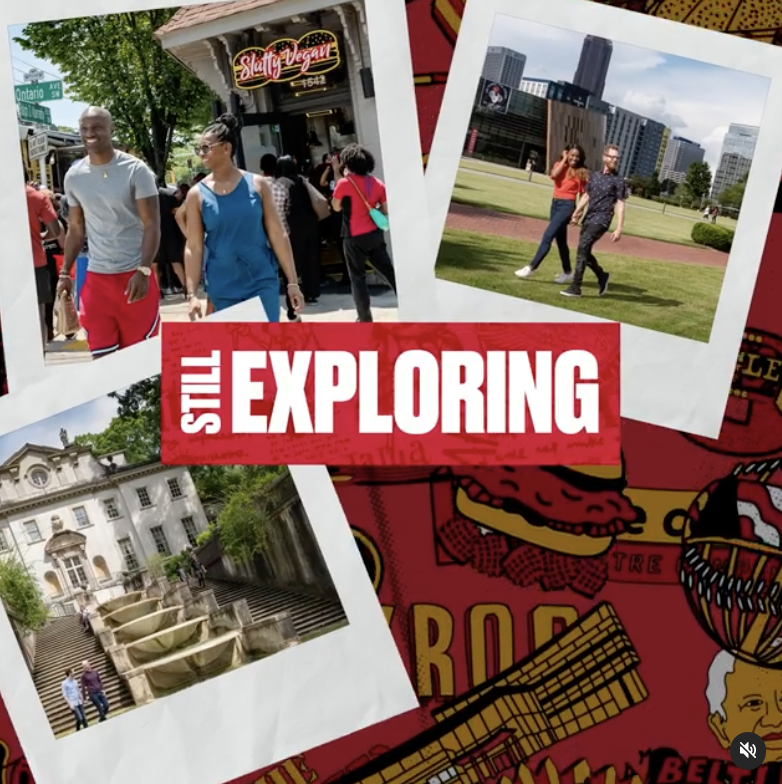 The new "Still Atlanta" campaign ('Still Adventurous, Still Hungry, Exploring, Still Shinin', Still Atlanta') shows couples walking outdoors, no crowds, no masks. Because Atlanta Convention and Visitors Bureau walks a line between travelers concerned about their safety and others who bristle at restrictions, Chief Marketing Officer Andrew Wilson said, "So we took the deliberate approach of striking that middle ground of showing few people, no crowd shots, almost all outside."
As of October 20, travelers from 38 states (plus Guam and Puerto Rico) traveling into NY/NJ/CT tristate area are required to self-quarantine. Also, the governors of NY, NJ and CT are asking residents of the tristate area, population about 32 million, not to travel within these neighboring states.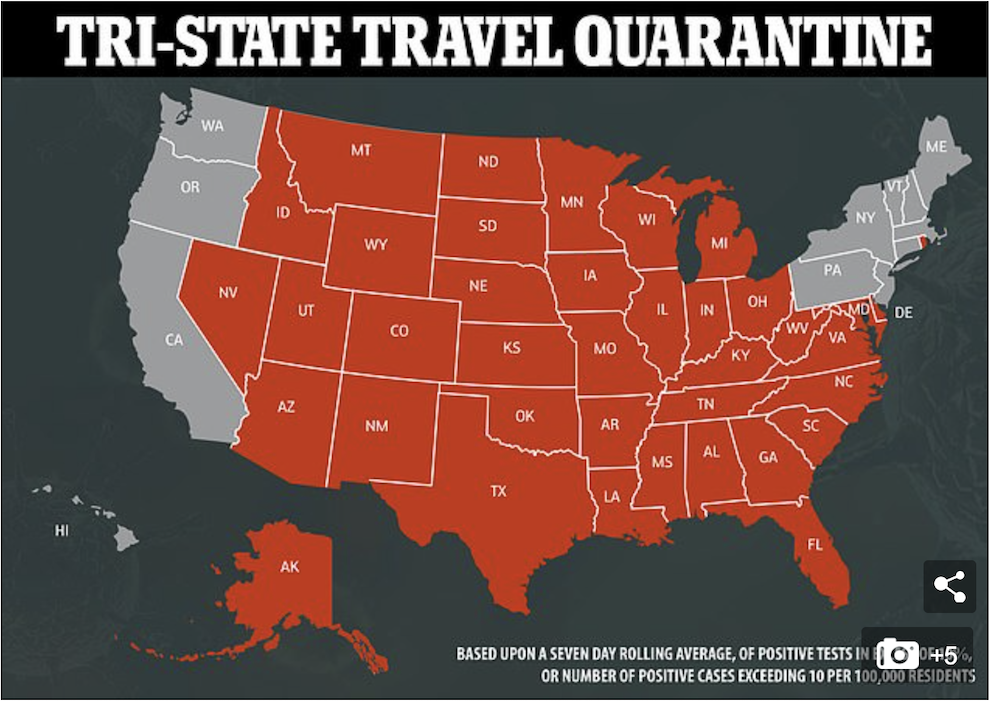 "The quarantine will apply to any state where 10 of every 100,000 people test positive on a rolling seven-day basis, or where the positivity rate in the total population is 10 percent, also on a seven-day rolling basis." —Joint press release from three governors.
This is the biggest quarantine list to date, with nearly 75 percent of the USA included. There are fines of $2,000–$10,000 in New York, for example, and/or mandatory quarantine. Read more here.
No-entry into New York/New Jersey/Connecticut
| | | | |
| --- | --- | --- | --- |
| Alabama | Illinois | Missouri | Rhode Island |
| Alaska | Indiana | Montana | South Carolina |
| Arizona | Iowa | Nebraska | South Dakota |
| Arkansas | Kansas | New Mexico | Tennessee |
| Colorado | Kentucky | Nevada | Texas |
| Delaware | Louisiana | North Carolina | Utah |
| Florida | Maryland | North Dakota | Virginia |
| Georgia | Michigan | Ohio | West Virginia |
| Guam | Minnesota | Oklahoma | Wisconsin |
| Idaho | Mississippi | Puerto Rico | Wyoming |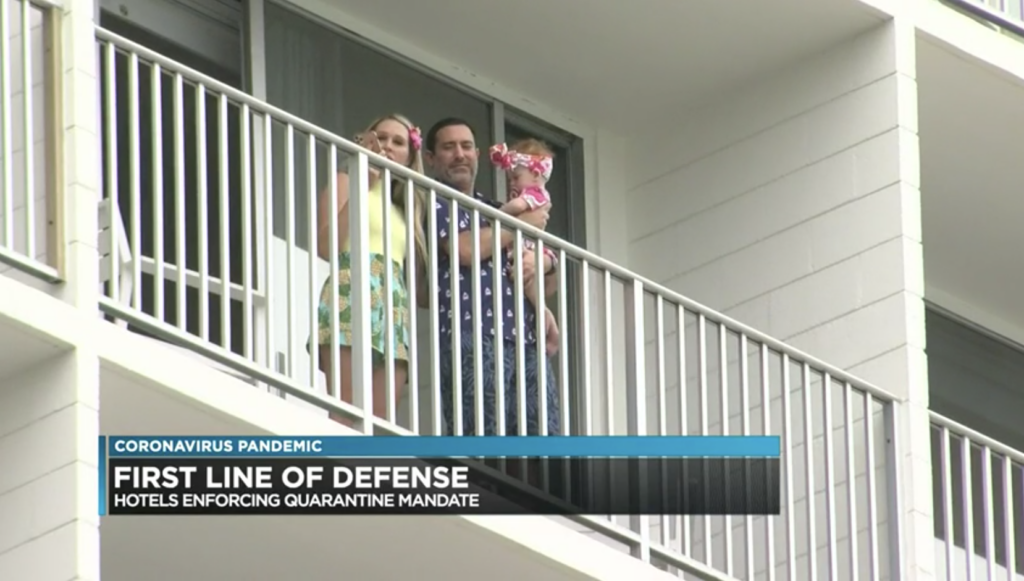 Hawaii-bound? It's a "Quarantine in Paradise" for some visitors. Hawaii officials were unprepared for 37,883 arrivals during the first four days of the state's reopening following Oct. 15. Arrivals rose to 66,644 in the first seven days.
Nearly 7,500 visitors got stuck because their test results were misplaced, not provided from an approved source, or needed a manual review. These visitors were allowed to proceed to their hotel room for quarantine, with the caution that venturing beyond a balcony would mean being locked out and police being contacted.
"If you have just a layover in Honolulu then the negative test result is good through to your final destination. If your break in Honolulu is more than a layover, then you are captured by the interisland quarantine." — Hawaii State Department of Health
"The large number of the tests that needed to be reviewed was caused by the addition of travel partners and the grace period in which the state was allowing visitors with non-trusted partners to upload their negative test results," a spokesperson said. "We have increased our staffing to get through the backlog and now have about 40 people working on the issue. Along with uploading non-trusted partners' test results, we've discovered that people have been sending screen shots, when the instruction states only PDFs are accepted, as well as poor-quality documents."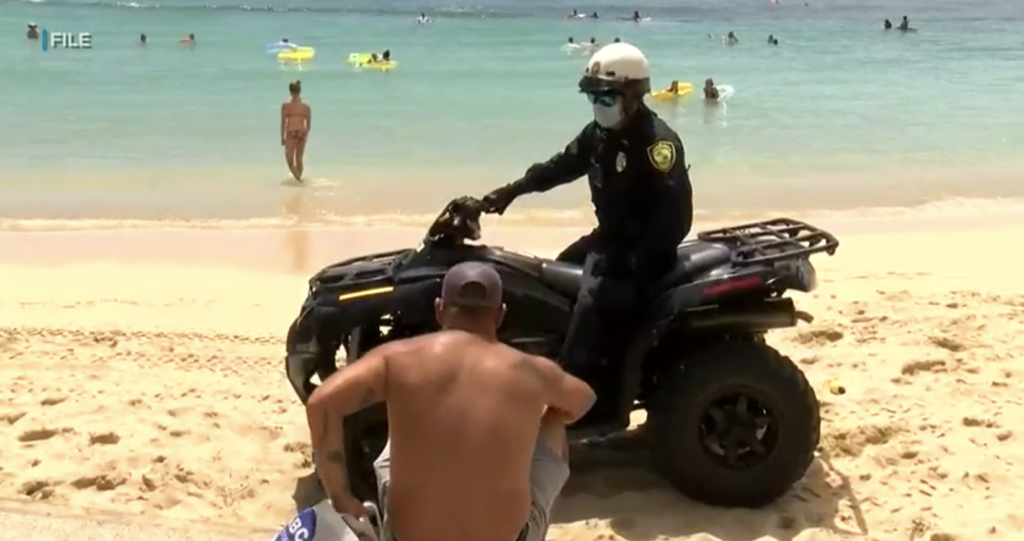 Out-of-state travelers arriving in Hawaii need to furnish evidence of a negative FDA-approved nucleic acid amplification test (NAAT), performed using a nasal swab by a CLIA-certified laboratory taken within 72 hours before arrival. Test results must be from one of these (as of now) approved labs or clinics: AFC Urgent Care, Bartell Drugs, Carbon Health, CityHealth Urgent Care, Color, CVS Health, Discovery Health MD, Kaiser Permanente, Quest Diagnostics, Vault Health, or Walgreens.
Hawaii Visitors and Convention Bureau says more than 80% of Oahu hotels expect to be open by the end of November, with comparable results for neighbor islands.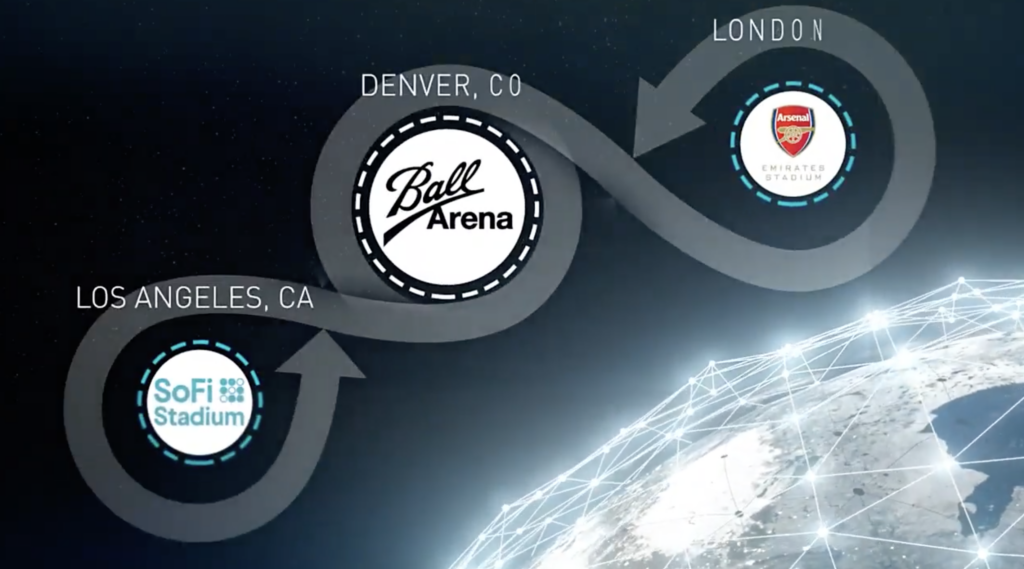 Denver's Pepsi Center, a concert venue that's also home to the Denver Nuggets and Colorado Avalanche, was renamed Ball Arena last week. The center's owner, Kroenke Sports & Entertainment, is committed to sustainability in a partnership that promotes use of the recyclable Ball Aluminum Cup. The partnership is also in place at stadiums where Ball doesn't have the naming rights in partnerships with the LA Rams at SoFi Stadium and with Arsenal at Emirates Stadium in London.
Also in Denver, at Coors Field, the food service contractor Aramark has announced plans to lay off 904 workers responsible for concession stands that are now closed.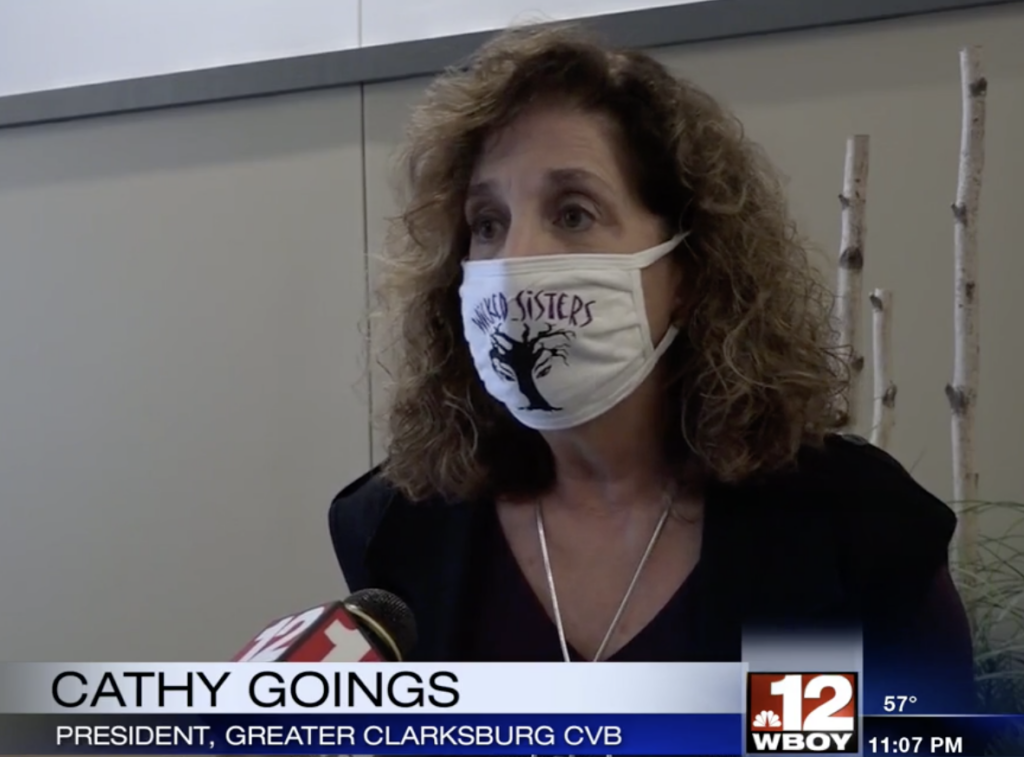 Huh? In West Virginia, the Clarksburg City Council passed an ordinance to create a new Clarksburg Convention and Visitors Bureau in addition to the existing Greater Clarksburg Convention & Visitors Bureau. Meantime, local news points out that the community has only four hotels in the larger area (one in default) and doesn't have a downtown hotel or convention center.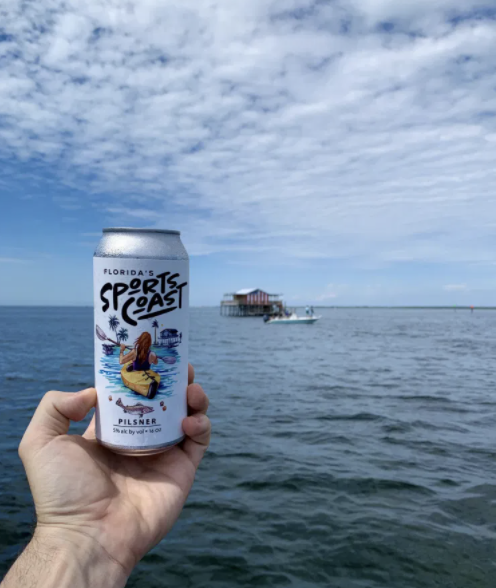 In Florida, Pasco County Commission has approved spending $48,000 for a tourism-related economic impact study contracted to Downs & St. Germain Research Inc. (DSG), a market research firm based in Tallahassee.
More importantly, perhaps, the DMO has teamed up with Escape Brewing Company to create Sports Coast Pilsner. The beer is light and crisp with notes of citrus. "It's like sunshine in a can," said a brewer co-owner, John McGregor said, in the release. Even the artwork for the can was done by a local artist, Veronica Steiner, lead designer for the brewery.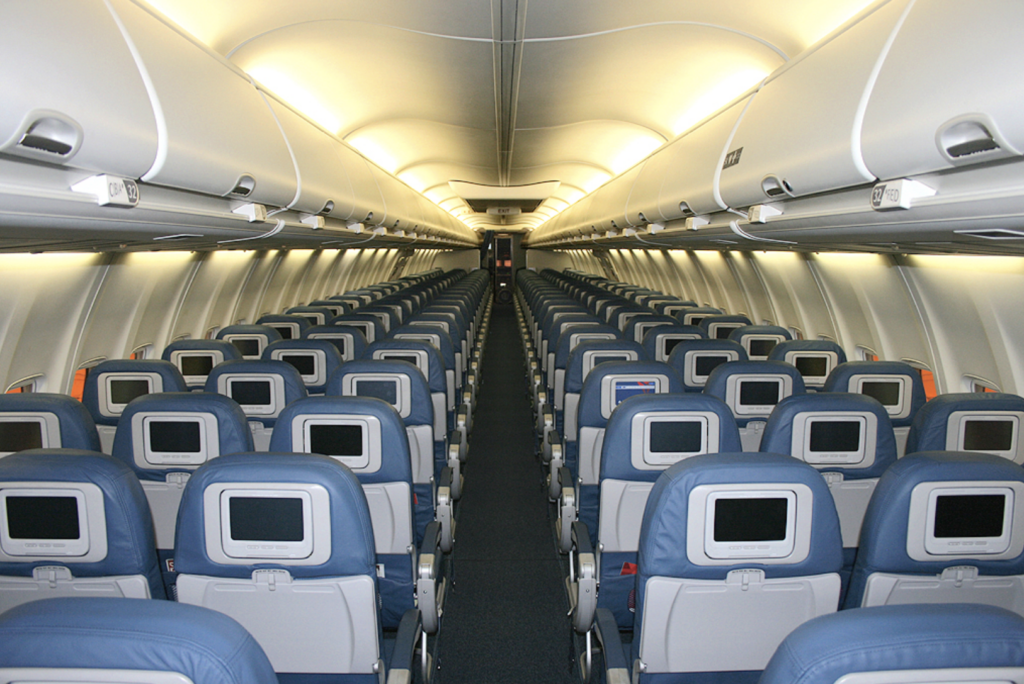 "Southwest on Dec. 1 will follow the lead of United and American in filling every seat if it can, instead of blocking out a percentage of each flight's capacity to ensure a large number of empty middle seats. Alaska Airlines, which had promised to provide empty middle seats through the end of November, said in its earnings release this week that it will now extend that policy through Jan. 6.
Delta, one of the strongest advocates of empty middle seats, had also extended that policy through the first week of January, but CEO Ed Bastian said in a TV interview this week that the carrier now plans to keep blocking out middle seats well into next year, depending on customer feedback. Delta limits bookings to about two-thirds of each aircraft's seats." — SFGate.com
$1,750,000,000,000 = The Cost of COVID: Who would ever have imagined? IATA says the impact of COVID on aviation has cost worldwide GDP $1.75 trillion so far. SO FAR. Airlines will burn through even more cash through the rest of 2020.