Columbia, S.C. is "Famously Hot" no more. The city has has re-branded. The re-think is based on research from a visitor study done by San Francisco-based Destination Analysts ($50,000) and creative input from Austin-based Foxtrot ($100,000), reports local newspaper Free Times.
Part of the rebranding is a collapsing of the complicated series of entities that run tourism for the city — the Columbia Metropolitan Convention and Visitors Bureau, the Midlands Authority for Conventions, Sports & Tourism, and the Columbia Regional Sports Council as well as the Columbia Metropolitan Convention Center, which retains its name.
Now, they'll all come under the umbrella known as Experience Columbia SC with a new logo (containing a big block 'C') and a new tagline: "The Real Southern Hot Spot." Previous taglines for the South Carolina state capital have been:
"Famously Hot" (2009)
"Where Friendliness Flows" (2004)
"It's Happening Now!" (1998)
"A Capital Place to Be" (1991)
New logo on the left, old logo on the right. Read more here.

#  #  #
The City of Vancouver in British Columbia has learned the hard way. A new destination logo must be thrown out after zero citywide consultation resulted in zero satisfaction within the community. (See Rhode Island disaster in The Travel Vertical, 4/4/2016.)
Local creative director Brock Ellis claimed the design fails the ultimate brand loyalty test, saying, "I can't imagine anyone getting [this logo] tattooed on their body."
The new logo has now been soundly rejected by locals who live the brand everyday, as well as the process the city used in coming up with the new look. Although the old logo served for 10 years, city officials said it didn't work in the small screen digital world.
New logo on top, old one below. To read more about getting it right the first time, click here.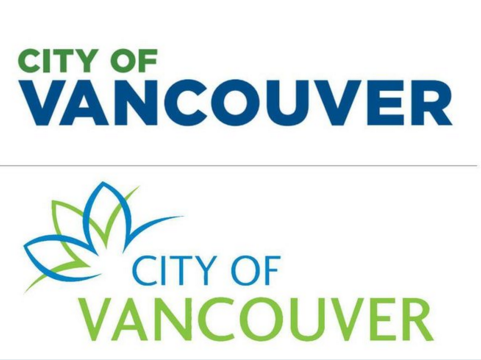 Tourism Vancouver, meanwhile, carries on with their own branding, seen here: