During last year's video interviews at eTourism Summit 2017, we asked a few DMOs to talk about an aspect of their experience as a registered delegate. Here's what they had to say.
Q: eTourism Summit: "What were your favorite moments at eTourism Summit and why do you recommend attending with additional staff?"
Andrew Wilson, Executive Vice President & Chief Marketing Officer, Atlanta CVB: "I was really fascinated by what Jay Kinghorn has been doing in Utah with their very advanced testing of their content and applying neuroscience to that is really something I want to go into in more depth, for sure."
Jay Kinghorn, Associate Managing Director, Utah Tourism: "…With digital expanding into all of our programs, it helps to have your staff trained up and understanding what's happening at the leading edge."
Debora Wright, Director of Marketing, Visit Virginia's Blue Ridge: "It's been a great experience. I came in for the pre-session…got to meet a lot of people who I'll definitely continue with after networking. Then with the conference, it's been wonderful breaking out into difference sessions on the first day and having a general session today. I'm taking back a lot of good information for the company."

Susan Thomas, Chief Marketing Officer, Visit Huntington Beach, CA: "I think it was looking out over a sea of young Millennial digital marketers and having them ask really smart, on-point questions and having a great dialogue…and just learning from that interchange."
Malarie Puggioni, Marketing Manager, Beverly Hills CVB: "My manager and I both attended last year and we said, 'Alright, we've got to make room in the budget this year.' I was involved in the workshop on the first day and it was awesome to see what we could do with an iPhone…that we could edit a quick video in-house with a quality that's nice."
Leroy Bridges, Vice President-Digital and Communications, Visit St. Pete Clearwater: "I love eTourism Summit because it brings a lot of the best doers in the tourism marketing world together. It's not necessarily high level executives, but it's the people who are really working with digital marketing plans, social media. There's a lot of great exchange of ideas and there's no other conference like it."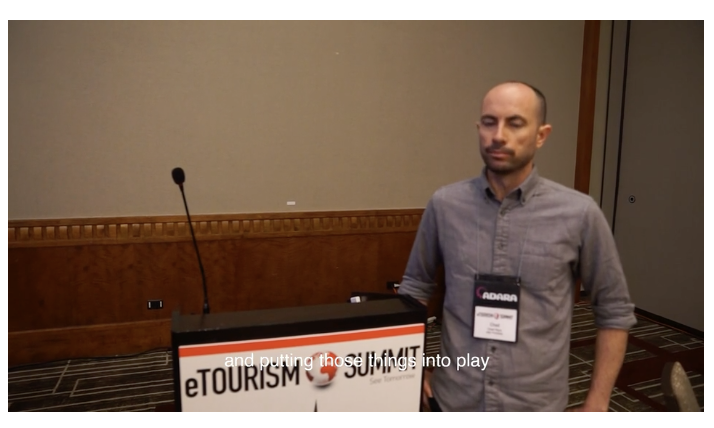 Chad Hays, Senior Online Marketing Manager, Visit Phoenix: "I appreciated that yesterday we talked a lot about what's going on with Facebook and how to best advertise on that platform. So, I took a lot of notes just on Facebook alone; looking forward to getting back to the office and putting those things into play."
Watch all seven video testimonials on the eTourism Summit website where the Agenda and Registration are also found.