| Issue 7 |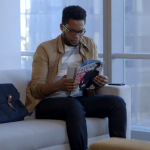 Magazines are still good for something. Here's a brief look at the synergy between print and digital media…Click.
Twitter needs a product change to grow its numbers, yet users throw tantrums when they try. What exactly happened this past weekend?
Crazy, but true. Prince Charles and Ozzy Osbourne are look-alikes. Demographics alone cannot do the job without intent.
Snapchat has visibly increased the relevancy of its platform with travel-inducing content created by its Millennial-rich audience. And, travel brands ought to be there to connect with them. "Oh snap! #PureMichigan is on @Snapchat!"
Get tips on how to build successful ads using the 5 ad objectives available on Instagram:
Website Click
Video View
Mobile App Install
Page Post Engagement
Website Conversion
Kelsey Meyer, President of Influence & Co., says the most exciting trend in content marketing right now is that the primary goal of marketers is switching from brand awareness to lead generation. She explains here. Talk to Kelsey at DigMe '16 on April 13-14, 2016 in Philadelphia.
Comings & Goings…We're reporting on the comings and goings of digital marketing staff at DMOs, attractions and agencies specializing in the travel and tourism space. If you have staff changes in your marketing and digital departments, claim some real estate by contacting [email protected].