When Satisfi Labs was born in New York City in the summer of 2016, its first customers were a trio of big names: The NY Mets, the US Open Tennis Championships, and Macy's.
In 2020, when a mid-pandemic opportunity arose in travel and tourism, CEO and co-founder Don White took it on and The Travel Vertical wanted to know more.
Satisfi Labs and Experience Columbus partnered to create an AI platform for a virtual assistant across chat to provide automated, on-demand answers 24/7 for locals and visitors.
Sarah Townes, VP Marketing at Experience Columbus said, "This AI solution has built-in capabilities to promote and influence event ticket sales for any occasion, which will be vital once events and gatherings return to the city. We will also continue to evaluate how we can use it to amplify specific tactics, as we did in December with our local holiday gift guide."
Available on web chat, Facebook Messenger, and Alexa Flash Briefing, the capability supported Experience Columbus Gift Guide campaign over the holidays. Going forward, it can be used to promote conventions and events and in-market ticket sales.
Q: We love to hear about the latest cool tools for digital destination marketing. What does Satisfi Labs do and what problem does it solve for a DMO?
A: Satisfi Labs is a conversational AI platform that creates Interactive Answer Engines that power unique search experiences for DMOs using conversational AI and knowledge management technology. We help DMOs provide automated and on-demand answers for locals, leisure visitors, and work travelers so they can access all the information needed to experience any city with ease. These answers include intent categories for frequently asked questions, ways to support local businesses, transportation information, tourism experience data, neighborhood info, and most importantly at the moment, COVID-related health & safety questions.
Q: In travel and tourism, you've launched the Interactive Answer Engine with Experience Columbus. Can you describe what their specific need was?
A: We launched the Interactive Answer Engine in summer 2020 with the intention of setting up the City of Columbus for long-term success, as our technology aims to provide visitors with access to real-time answers to their most pressing questions. They needed to find a solution with the ability to equip visitors with all the information to seamlessly navigate and experience all that Columbus has to offer. Making this information readily available on mobile allows Columbus to communicate in an approachable, easy way.
---
We want our guests to feel in full control of their experience when they come to Columbus. Satisfi Labs has allowed us to provide a seamless integration which gives us a direct and engaging connection with our visitors." — Sarah Townes, VP of Marketing, Experience Columbus
---
Q: You use the description "dynamic." Is your virtual assistant different from a chatbot? In what ways?
A: Experience Columbus' virtual assistant is built from learnings across Satisfi Labs' network of tourism, venue, event, and local attraction clients. We've handled over 2 million questions across our tourism verticals which gives us the deep knowledge base to allow destinations to provide assistance with 24/7 updates on trip planning at every stage of the journey. The Interactive Answer Engine isn't transactional but rather conversational. The combination of our use of Natural Language Processing (NLP) and knowledge management allows us to handle a much larger breadth of inquires compared to chatbots.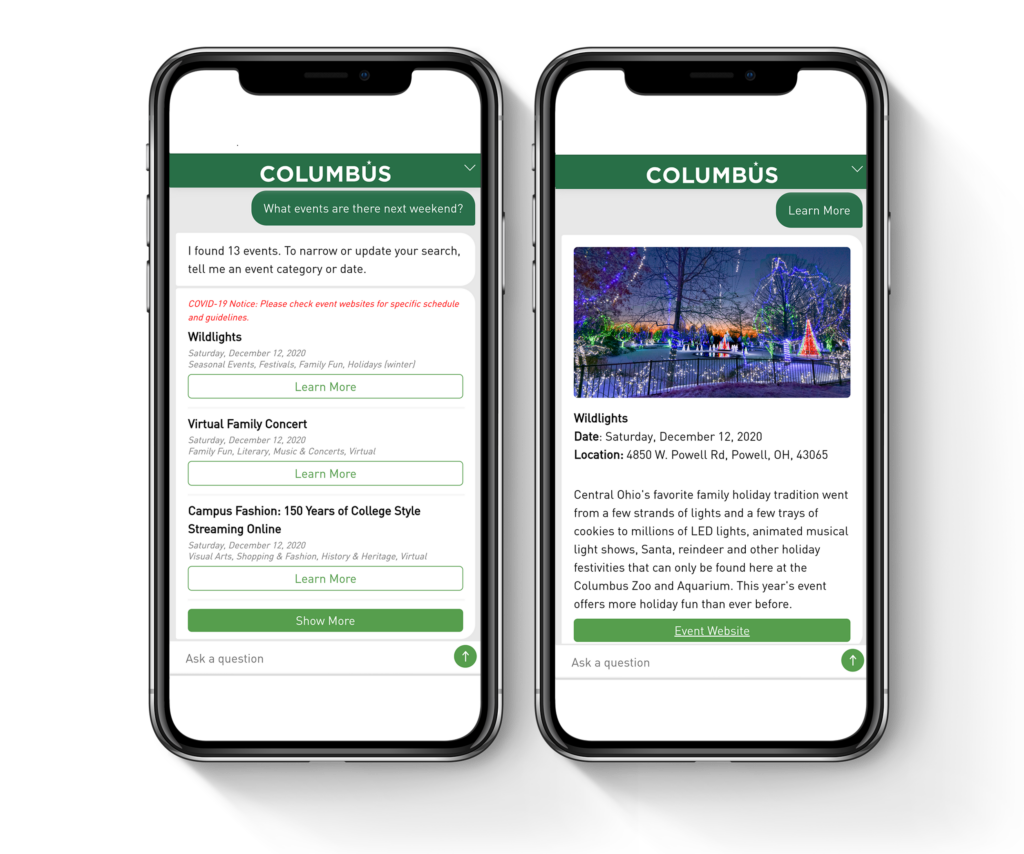 Q: Is this both a planning tool and an in-market tool for visitors?
A: The virtual assistant is both a planning and in-market tool employing a Customer Relationship Management (CRM) resource used by most destinations across the country, that instantly and dynamically surfaces information about events, restaurants, hotels, and things to do directly in a chat experience. It helps tourists plan their Columbus experience ahead of traveling by supporting the influx of questions leading up to multi-day conventions, events, concerts, and festivals for those traveling for leisure and business. Once visitors arrive at Columbus, the conversational assistant can provide location-based answers to help them locate attractions, food and beverage options, and shopping closest to their current location at any given time.
Q: As travel returns, how do you see applications for those visiting friends and relatives and for local residents, too?
A: The virtual assistant is helping every step of the journey from the moment visitors step off the plane, train, or out of their vehicle. This can be to discover which hotel is closest or what nearby restaurants are open to grab dinner. When travel does return, travelers will still be curious as to what safety precautions certain destinations are implementing, they will be able to ask and receive real-time answers through the virtual assistant. As state and federal restrictions evolve and change throughout the year, local businesses will have to revisit and revise their own operating procedures, which visitors can have the most up-to-date information about through our answer engine.
Additionally, during this COVID time, the adoption of digital communication technologies has been accelerated for consumers who might have resisted in the past. Now that digital communication is becoming more common, consumers will be looking for cities to provide more smart city solutions. We see this technology as being a necessity in the future as consumer habits have evolved.