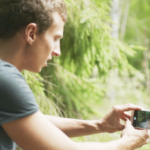 No kidding. This guy, Emil Pakarklis, has created a successful iPhone Photo Academy…and it's so easy to watch.
"If you really understand how your iPhone camera works, you can use it to take photos that are so great that nobody will even believe they were taken with the iPhone," says Emil.
He shares seven little-known tricks for taking incredible photos with an iPhone 6. There are tips for iPhone 5, 7, 8, and X as well.
When you can, invest 30 minutes watching this teaching video or save and share the written photography lesson found here.