Lexington, Kentucky — You think of thoroughbred horse farms and beautiful countryside, right? Even better than admiring the horses, how about seeing Lexington from the horse's point of view? Read below for the back story from Gathan Borden at VisitLex and watch the clips (including a behind-the-scenes video) for the best creative you've seen lately. Enjoy!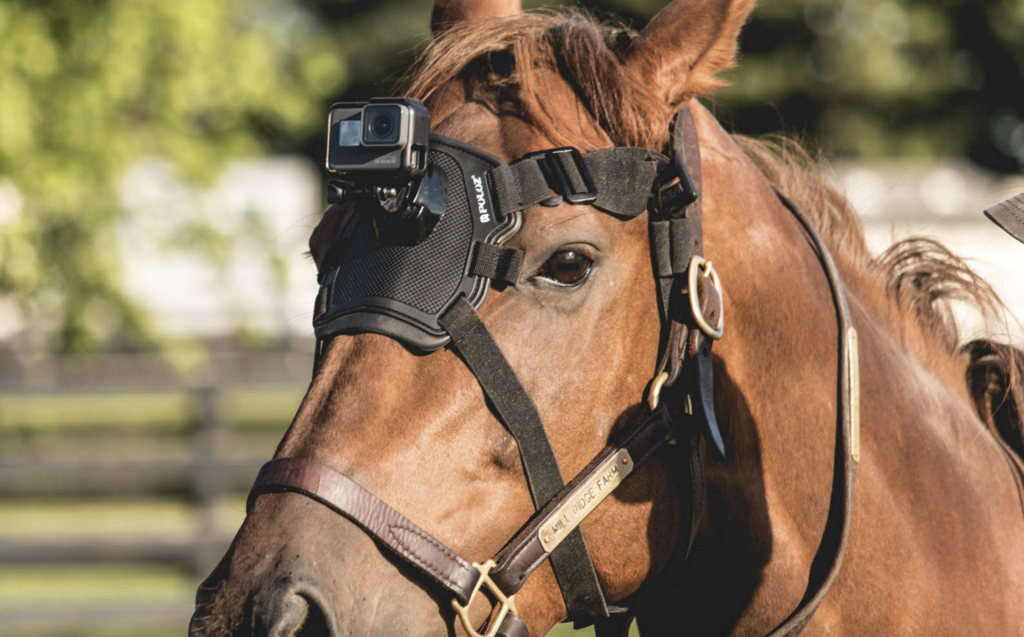 Thank you to Gathan Borden, VP Marketing at VisitLex for this fascinating Q&A with The Travel Vertical:

 

1. Where did the idea of using GoPro on the horses come from?

I am an idea guy, and luckily for us, our agency is really an extension of our work, and they are great at ideas/brainstorming and taking those ideas and helping us build them out. The concept of touring a working thoroughbred farm is new. Most of the fan base in thoroughbred racing is older, and in order to appeal to a younger generation, these horse farms are now opening their doors for the casual racing fan to see what goes on beyond seeing the horses race. We have been working hard to craft the story of Lexington by peeling back the layers of our destination to give potential travelers a first-person point of view of what it's like here. We know that people have seen horses and their foals frolicking, and that type of video footage is always met with a smile. We also just launched a  360-Degree horse video that puts people into horse-related environments as a tourist. And then we thought about taking it one step further, and putting the visitor inside the fences to see what horses and their foals actually see and do. We thought that viewpoint would be something that no one has ever seen before, and would be a huge motivating factor in inspiring someone to come visit us. The initial idea was actually a joke from our brainstorming sessions, but then we thought that we probably could pull it off. We felt this idea would be a great way to inspire the younger traveler.
2. What's the strategy behind the extra short clips?

Tourism as a whole is now all about personalized and hand-crafted experiences, and you can't get much more personal than a foal in your face!!! 

We produced the behind-the-scenes video so that people can see how it all came together, and to understand that no animals were hurt in the process of this…matter of fact, they were very willing participants. From all of the b-roll footage, we created 4 short videos of ads filmed by horses, all carrying a different message and showcasing a different point of view. Our strategy is to use these videos to build the awareness of Lexington as a fun travel destination, and to also showcase what a thoroughbred farm actually looks like, because they are all different. At the end of the day, we love horses, we love Lexington and we don't take ourselves to seriously. Instead of us as the CVB selling you on our destination, we decided to bring in someone else who has a better viewpoint and can show you things that even we haven't seen before. And the video titled "They Grow Up So Fast", the foal was actually filmed by the mother!
We have more video ideas planned…BUT I cannot give away all the good stuff coming!
3. Was the editing process a major one? (The result is sooo smooth.)

I think that with all the new technology of VR and our mobile devices, that we have forgotten just how good GoPro cameras are. The stabilizer we used made the editing process relatively simple, and we wanted the footage to be as raw as possible because we want to keep its authenticity. There were some scenes that were too shaky, but for the most part editing was easy. The strap that we found was actually meant for a dog, and it turned out to be a perfect fit for a horse! T

he hard part is getting a horse to be still while surrounded by equipment and handlers…keep in mind, these are million dollar horses!
4. How long did the project take from ideation to completion?

We had been talking about this idea, along with some other big ideas for months…but this one seemed too cool to pass up. We are fortunate enough that we have some very open-minded horse farm owners who are committed to Lexington tourism, and are offering a great service to our visitors. We pitched the idea to Mill Ridge Farm, and their owners were all over it! Most foals are born in February, so we had to wait until the weather turned for us to get out there. Mill Ridge Farm allowed us to come on the grounds as much as we wanted to scope out where we wanted to film and then allow us to test which camera mounts would work best. It was about a 3-month process once we got the approval.
5. What details can you share about budget, both production and distribution?

We spent $8,000 to create 5 videos, which includes the behind-the-scenes video and the 4 clips. And then we spent $5,000 promoting them on Facebook.