More than 250 advertisers have reportedly removed their ads from Google services after a newspaper report in The Times of London last week indicated that corporate ads were popping up alongside extremist content on YouTube.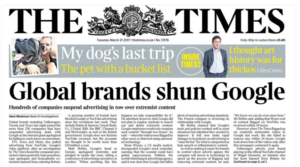 McDonald's, Heinz, Audi, Toyota, L'Oreal, HSBC, Lloyds Bank, Marks & Spencer, the BBC, and ad giant Havas UK suspended ads in the UK. Additional big brands in the US have joined the boycott of non-search ads, including PepsiCo, Wal-Mart, Starbucks, Volkswagon, Johnson & Johnson, Verizon, and AT&T, reported by the Wall Street Journal, Associated Press, and The New York Times.
"Google's European boss Matt Brittin explained to Business Insider on Monday that 400 hours of user-generated video are uploaded to YouTube every minute and thousands of websites added to Google's AdSense network each day, which makes it extremely difficult to police which content is safe for brands to advertise against and which isn't." – Business Insider, 3/22/2017.
This infographic explains how inadvertent online  juxtaposing of ads targeted at people, rather than websites, can occur. Read more here.