Published by Resonance Consultancy (Vancouver and NYC), the 2016 U.S. Tourism Quality Performance Index measures tourism's supply-side performance and competitiveness in 121 cities across the USA.
Findings are based on both absolute and indexed scales: the absolute scale measures the total number of quality experiences; the indexed scale evaluates performance in terms of how many quality experiences are delivered per visitor.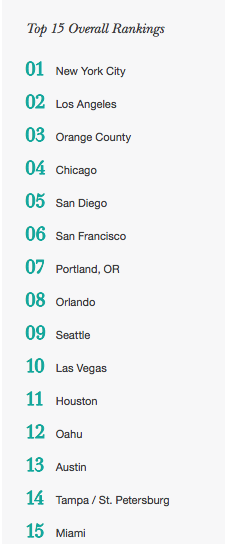 Rankings are based on an analysis of the number of products or experiences rated as 'very good or excellent' — some on Yelp, some on TripAdvisor — in 17 different areas, grouped into six core categories:
1. Culture 
Museums, Theaters & Concerts, Arts & Entertainment
2. Entertainment                                                                          Shopping, Nightlife, Amusement Parks, Zoos & Aquariums, Casinos & Gambling, Fun & Games
3. Sightseeing
Sights & Landmarks, Nature & Parks,  Sightseeing Tours
4. Sports & Adventure
Outdoor Activities, Boat Tours & Water Sports
5. Culinary
Food & Drink, Restaurants
6. Lodging
Hotels 
Download a free copy of the report, with further breakdowns in consideration of size of destination, here.