"Some New Yorkers are born. Some are made. All are welcome." Every city needs a logo, right? As part of the new branding, the city launched 250 pictograms, intended to assist non-English speaking visitors as well.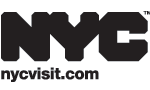 "We recognized that having an icon concept was powerful tool for the city, especially in speaking to foreign audiences," says Emily Lessard, Creative Director of NYC & Company, the marketing organization for the city of New York.
Read more and see the videos here.