Back by popular demand, the Pre-Conference Day at eTourism Summit features a full-day workshop option called CREATE: A Smartphone Video Storytelling Workshop.
Related: "LOOK! You Can Make Videos on the Cheap in No Time," (The Travel Vertical, December 13, 2017).
This hands-on workshop is ideal for DIYers and budget-minded DMOs. You'll use San Francisco as a subject. Teams of four are dropped off at iconic locations in the city to plan, shoot, then edit their raw footage into a one-minute video. (This year, we're using industry leaders and professional editors.)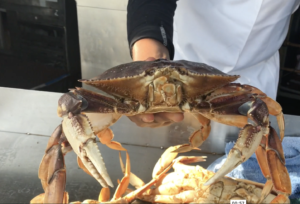 Lobster! Dungeness crab! Sea lions! Fisherman's Wharf! Here's a 75-second video result—complete with audio—that was produced as a destination video at the workshop last year.
Register early for the eTS smartphone Video Storytelling Workshop. It is limited to 24 participants at a fee of $495 for eTourism Summit conference registrants and $795 for non-eTourism Summit conference registrants. Click here to register.